As the saying goes, "the more, the merrier." Paddling on the water and enjoying its serenity are the main perks of recreational kayaking, but things would look better if you're not alone.
Tandem kayaks are one way of letting two people have their alone time and share the delight of this recreational activity.
This type of kayak has two seats in one boat and is larger than single kayaks.
To have a great experience in kayaking, you will need to have the best tandem kayak.
Lucky for you, you've come to the right place with this article's buying guidelines and detailed reviews of the current bestsellers.
Best Tandem Kayak Review 2023
There are quite a lot of tandem kayaks on sale, but few are up to the quality you seek.
Through our best tandem kayak reviews, we give you details on the five boats which you will highly consider in your deliberation.
1

Lifetime Manta 10 Feet Tandem Kayak
If you want more than two people to fit into the boat, you can opt for Lifetime Manta. It's a three-seater, but the third person must be a kid or someone with much less weight.
Ergo, this tandem kayak is highly preferable if you are a small family who likes to paddle around under calm weather.
The 10-feet long kayak is composed of hard plastic that is both durable and lightweight. It weighs just 60 pounds, but the weight capacity is enormous.
The kayak offers plenty of room for up to three people as long as you don't reach the 500-pound maximum weight the boat can carry.
Lifetime Manta is beginner-friendly because of its tunnel hull construction. It gets stable the longer you stay in it, making it impossible of capsizing. The interior foam helps with this feature because it adds to the buoyancy of the kayak.
The tunnel hull also provides good enough tracking so that paddling in the water won't require much hard labor.
As this is a sit-on-top, the seats are placed high so that there are fewer chances of sitting in water because of the water coming into the boat. In any way, dotted scupper holes are running through the hull for easy water drainage.
Of course, these two seats have foam backrests to provide comfort while paddling.
The kayak is not complete without any storage area. So, for this tandem kayak, the storage for extra stuff, like lunch boxes and fishing equipment, is located at the bow end. They can be secured with shock straps (bungee cords).
For its lower price compared to other tandem kayaks, the quality is worth the money.
However, the included accessories can be a downside. The two paddles aren't impressive for their durability, but they can take you to your destination.
It's better to exercise caution when using these paddles when kayaking as they're susceptible to breaking.
Lifetime Manta, upon purchase, comes with two 7-feet paddles, a mast receiver receptacle, and a bottle holder.
When the paddles aren't in use, they can be stored securely on the boat's paddle cradles located at the front and rear.
PROS
UV-protected outer shell
Easy transporting through the carry handles
Three contoured seats
Push buttons on the paddle for easy 90-degree paddling angle
With mast receiver receptacle to attach a sail
---
2

Lifetime Sport Fisher 10-Feet Tandem Kayak
Another Lifetime Kayak has made it into our list. Its purpose is already apparent from its name.
This tandem kayak is recommended if you and your partner like to go fishing.
Just like the Lifetime Manta model, this one is also a sit-on-top type.
Lifetime Sports Fisher can sit three people as long as one of them is a kid. Keep in mind the capacity of 500 pounds maximum, which is actually quite plenty. It can also handle various equipment when you set sail for fishing excursions.
Two of the seats have padded backrests and have multiple footrest positions which cater to users of varying heights.
Also, transporting the kayak from the top of the car isn't taxing as it only weighs 60 pounds.
Its construction is similar to Lifetime Manta. It also made use of high-density polyethylene. The tunnel hull design helps with stability and tracking.
Two more things to note about this kayak are the four fishing rod holders and three bottle holders. The rod holders are located on each side of the boat for the best chances of angling.
And, the bottle holders are strategically placed in front of the person for quick reach.
The storage capability of Sport Fisher is enormous. First, there's a spare space located in front of the kayak, and so, anything you place on it must be secured safely with the bungee strappings.
Lastly, there's a 6-inch storage hatch placed at the rear of the kayak. Anything that you store in it will be kept dry throughout the excursion.
This tandem kayak has only one color. The olive green color is not as vibrant as others like yellow or red. So to counter this setback, wear a neon-colored life vest.
Also, since the seats only have padded backrests, this kayak is not appropriate for extended-time excursions. The bottom seats are hard plastic and can be quite uncomfortable.
One more thing to note about this kayak is its short and lightweight design. It won't fair well in fast water currents and windy conditions. Tracking can be an issue in these cases.
When you're staying in one place when you're trying to catch fish, the paddles of this kayak can be secured with the paddle cradles and clips located side by side.
PROS
Rear storage hatch
Four rod holders
​Scupper holes for water draining
​Multiple footrests
Three contoured seats
CONS
Not for windy conditions
Not for moving water
Not for long time excursion
---
3

Ocean Kayak 12-Feet Malibu Two Tandem Sit-On-Top Recreational Kayak
Ocean Kayak is a known brand in the kayaking business. Their kayaks are quite popular, particularly with their Malibu Two.
The Malibu Two is a sit-on-top kayak known for its versatility and stability when used. Two adults and a child can enjoy this recreational kayak.
As evident from its large size, this kayak measures 12 feet long. Nonetheless, it's pretty lightweight at 57 pounds despite its length.
Also, the weight capacity can take a maximum of 425 pounds, and three people can squeeze in just below the weight limit.
Of course, the seats are quite comfortable as two of them come fully cushioned, unlike others that only have padded backrests. This kayak also features multiple footwells to cater to various users of different lengths.
One great thing about Malibu Two is its versatility. One person can paddle around as long as you position yourself in the center seat.
I find this quite a useful feature to have when your buddy calls in sick and can't make the appointment.
The Malibu Two has an impressive hull and deck design. This makes stacking of multiple kayaks possible when you're just storing them in your garage.
Also, due to the construction, this quickly adapts to any movements of the water and easy balancing through the waves.
Given that the weight limit is lesser than other kayaks, the Malibu Two is focused more on recreational kayaking which doesn't require any other equipment.
The maximum weight capacity and the design doesn't give extra space for bulky things. Also, due to its size, it's not as fast as others.
There are three colors to choose from: yellow, orange/yellow combo (called Sunrise), and the gradient combo of green/white (called Envy).
PROS
Can be a solo or tandem kayak
Three-person molded seats
​Two comfortable seats
​Easy kayak stacking
Multiple foot wells
CONS
Limited storage space
Not as fast
Very expensive
---
4

Vibe Kayaks Skipjack 120T 12-Feet Tandem Kayak
If you like kayaking for fishing purposes, then you should consider this kayak among your pool of choices.
Not only you will enjoy it with your friend; you can expect a stable kayak that performs well in any water conditions. Be it calm or rough current; this one's got your back.
Just like most tandem kayaks, two adults and a child can fit in for a real fishing experience.
This kayak is a sit-on-top type, and there are two comfortable seats. The center seat is for a child or when you like to paddle solo. Yes, Skipjack 120T can be maneuvered alone when you position yourself at the center.
However, the downside is its heavyweight of 72 pounds, and you may need to have extraordinary strength to maneuver it especially in rough water conditions effectively.
The weight capacity is generous at 500 pounds. This kayak's storage spaces are impressive. There's the cargo storage area located at the rear. You can secure anything with a bungee cord.
To keep your stuff dry, there are two covered hatches located directly in front of your seat.
Because this is more of a fishing kayak than a recreational one, four-rod holders can be found on the sides. There are four scupper plugs in case the water gets into the boat.
The weight of this particular kayak is heavier than other kayaks. Transporting proves to be tiring in this case. Also, it's not recommended to take on strong water currents because of its heavyweight.
Skipjack 120T has two colors: the vibrant combination of blue/white/green (called Sea Breeze) and the Hunter Camo design.
PROS
Deluxe kayak seats
For solo or tandem paddling
​With paddle rests
​Four mount fishing rod holders
Four easy grip carry handles
---
5

Advanced Elements AE1007-R Convertible Inflatable Kayak
If you're the type of person who doesn't like carrying a pretty big and heavy kayak, then, this inflatable kayak can be your best alternative.
This one though is pretty big at 15 feet, and you can either ride it in solo or tandem.
First, the construction of this kayak requires you to set it up by injecting air into it. Its hull design has built-in aluminum ribs that improve stability and tracking.
Also, instead of hard plastic, there are three layers of durable material that effectively resist puncturing.
Setting up the kayak can be time-consuming if you have excited kids with you. Inflating this kayak takes about twenty minutes while twenty-five minutes if for deflating.
Moreover, before stuffing it into your duffel bag, it must be air-dried first.
This is a convertible kayak and can be ridden solo or with two other people. The comfortable and fully padded seats are attached to the kayak after inflating.
Moreover, you can change to an open deck design or closed design in a matter of seconds.
The storage spaces aren't small and still provide you better leg positioning so that you won't feel cramped during long excursions.
There's an extra storage area located behind the rear cockpit, too. The maximum weight capacity of this inflatable kayak is 550 pounds.
PROS
Inflatable
Portable
Open deck or closed deck design
​Three layers of durable material
CONS
Takes time inflating and deflating
Deflated kayak must be dried before storing
---
Advantages and Disadvantages of Tandem Kayak
The first question that a person would ask when buying a kayak is if to go solo or with someone. There are a few advantages of having two people maneuver the boat.
Like for instance, you save several bucks to buy just one boat for two than buying two separate boats.
Furthermore, you can then revel in kayaking with someone, be they your child or a loved one.
Of course, if there are advantages, there are also disadvantages. Perhaps the most obvious setback when buying a kayak is the freedom to do whatever you and wherever you want.
People who don't get along most of the time would better steer clear away from tandem kayaks.
That's why, when you're buying a tandem kayak, better consult and discuss with your other passenger so there would be no instances of going solo, ever.
Considerations in Buying Tandem Kayaks
Kayaking in tandem is not as easy as it shows. There is the issue of selecting the best equipment that will offer superb performance, stability, balance, etc.
We've listed some factors that you will have to consider, so the kayak that you will be buying won't fill you with regret later on.
1. Type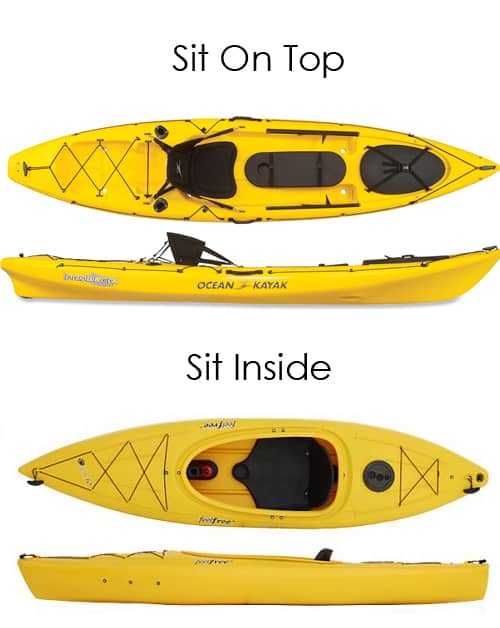 Kayaks can either be sit-in or sit-on-top. Sit-in kayaks have cockpits as your form of seating. In this way, you will position your lower body into the open gap of the boat by sliding in and out.
It's a good choice if you're bringing stuff with you while paddling because there are open spaces near you that function as storage. Sit-in kayaks prevent you from being too much wet.
Sit-on-top kayaks are popular for people who like to play in the water and won't mind being wet. They are also quite stable, flexible, and have good mobility.
Of course, there are few chances of filling up with water if this type of kayak capsizes.
2. Size
As you're visualizing the tandem kayak that you should buy, you should note that shorter tandem kayaks are not as steady as the longer kayaks. That's because the shorter a kayak is, the lesser the water it will dislodge.
And as such, it would be hard for two people to maneuver it. Another disadvantage is the restricted area of the seats.
3. Weight
Tandem kayaks are usually in the range of 75 to 100 pounds of weight. This is quite heavy compared to single kayaks which are normally less than 50 pounds.
If you don't want to experience the burden of the weight when transporting the kayak from your car to the water, then get yourself an inflatable kayak.
An inflatable tandem kayak, however, also has its cons despite its pros. It's gradually up to you which you would prefer the most.
4. Stability
The stability of the boat is highly vital when considering a tandem kayak. Stability is categorized into two: primary stability and secondary stability.
You can feel primary stability while the boat is at rest; you either slide in or out of the boat. By doing that, you'll determine how the kayak will act when you're in suspended motion for sightseeing or fishing.
On the other hand, you can test secondary stability when paddling. This type functions perfectly well when you're in a tight spot like when the water conditions become rough.
5. Material
Materials used on tandem kayaks are hard plastic, inflatable plastic, fiberglass, wood, etc. HDPE or high-density polyethylene is the sturdiest out of these choices but heavy.
We highly recommend getting a tandem kayak made of hard plastic because it has high resistance to impacts and collisions.
6. Hull Design
U-shaped kayaks feature more secondary stability while the V-shaped kayaks offer more of primary stability.
The trick to choosing the hull design is to know which body of water you will spend the most of your time in kayaking.
U-shapes are preferred in moving water like in rivers and surfing while the V-shapes are preferred on calm and flat waters.
7. Color
Because you will do your kayaking in broad daylight, then, the boat you should buy must be vibrant in color.
Its appearance must be unique from the others and can be seen from a faraway distance. The colors that are most visible are yellow, red, and orange.
Conclusion
Through our best tandem kayak review, you are now well introduced to the current bestsellers.
You must factor in a lot of things and your personal liking to get the best tandem kayak that you and your partner wouldn't be regretting later.