As you want to have your kid do well in archery, of course, you'd want to give them the best youth compound bow 2023.
It's always good news to hear children are still active outdoors than playing games on their digital screens at home.
Outdoor activities like archery instill physical fitness and skills improvement.
Kids who do shooting and aiming with bows from a young age tend to be master archers when they become adults.
Also, archery is a good bonding activity between a parent and his kid.
The 8 Best Youth Compound Bow Reviews 2023
Here, we present the best youth compound bows designed for people of the younger age. Find out if a bow here is best for your child.
Feel free to assess them one by one from the buying tips listed above.
1

Crosman Elkhorn Jr. Compound Bow
Draw weight at 17-21 lbs., perfect for young archers more than eight (8) years old.
Maximum draw length of 26 inches means that you can adjust the length as your kid grows up.
Bow weight of 3.3 lbs.
Let-off at 65%.
Warranty of ninety days.
As a parent, you can give this to your youngster interested in archery as it's not expensive but has an impressive quality.
He would surely be happy receiving Elkhorn as it just looks and feels like an adult bow.
Of course, in doing target shooting, a parent should always supervise the young archer as this compound bow is not a toy.
When you buy this, you also buy some other parts in a set. You get two composite arrows, but that won't just be enough. A two-piece quiver to jam the arrows in, an armguard made of plastic that prevents the string from hitting your kid's forearm.
You also get a finger tab for his fingers and the arrow rest made of rubber. The bow sight has only one pin so shooting can easily be done as beginners.
PROS
Promotes proper balance with the heavy-weighted but durable composite limbs.
Can be used when it's raining or not because of the heavy-duty string cable.
Noise level is on the quite side.
Bow is made of light material which is composite fiber.
CONS
Preferably for right-handed shooters.
Arrows are of low quality, and you should buy extra arrows.
You may need to add a nocking point on the string for arrow shooting consistency.
---
2

Barnett Vortex 45-Pounds Youth Archery Bow
Draw length of 21-27 inches caters older children.
Adjustable draw weight of 16-45 lbs. is good news; the young archer can bag some game weighing more than 40lbs.
Let-off at 60-70% allows him to experience comfortable shooting without straining from the full weight.
Barnett is known by parents who frequently buy youth compound bows. They produce quality compound bows as you see models of the same brand on this list.
Using Barnett Vortex, in particular, would certainly make the child feel that he's using a smaller adult compound bow.
Due to its draw weight, he can event go hunting with you. You can even hunt as big as a deer if you have the resolve.
When you buy this youth compound bow, you also buy three arrows, arrow rest, 3-pin bow sight, 2-piece quiver, and a carry case.
When you're not using the bow and want to keep it in the carry case, the bow-mounted quiver should be detached every time.
PROS
Barnett's five-year warranty is incredibly generous if you find out factory defects.
Typically available in black.
As there's no official information, bow weight is said to be more or less 3 lbs.
CONS
This bow is for right-handed archers only.
Bow stabilizer would be needed to dampen the vibrations and balance the bow.
---
3

Bear Archery Brave Bow Set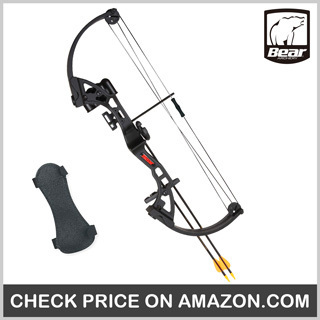 Bear Archery is a renowned brand in making bows for over 80 years now.
Draw length at 13.5-19.5 inches means that this is for kids more than seven (7) years old.
Adjustable draw weight at 15-25 lbs.
Let-off at 65%.
Axle length of 26 inches, 5.5 inches brace height.
Warranty of ninety days.
As one of the top leading brands in America, nobody would doubt the compound bows that they manufacture and are proven to be of high quality.
This youth compound bow is no exception and can be a great help for young archers.
In buying this bow, the package includes two arrows, arrow rest, armguard, 2-piece quiver, finger tab, and 1-pin sight.
Remember that when teaching your child how to shoot, he should be primarily supervised as youth compound bows are not just toys.
PROS
Composite limbs are to be trusted due to its durability.
Cordura nylon is water-repellent and protects the bow from weathering.
It comes in different colors to appeal to children's preferences.
CONS
Young, right-handed archers can only use this bow.
---
4

Barnett Outdoors Lil Banshee Jr. Compound Youth Archery Set
Featuring another product by Barnett in this list, we have Lil Banshee Jr.
This model is perfect for children who want to take up archery due to keen interest and curiosity.
Buying this youth compound bow for a child wouldn't wound up your budget as it's reasonably cheap.
However, low prices don't mean they have poor quality. You have to check it out to see it's excellent features.
Draw length of 18-22 inches.
Very light bow at 1.9 pounds.
Warranty of five years.
What comes with this youth compound bow? They are two arrows, finger tab, and adjustable pin sight.
PROS
Unlike most compound bows, this one is ambidextrous.
Aids in stability and comfort with the soft hand grip.
It comes in different colors such as pink, black, and camo.
CONS
Draw weight of 18 lbs. means that it's for children eight (8) years and up.
You may need another bow once the draw length is out of your range.
---
5

Barnett Tomcat Junior Archery Set
One on our list is another product from a reputable brand, Barnett.
Children can make Tomcat as their starting compound bow and learn how fun archery is.
Draw length at 21-23 inches, so the older children get to use this product.
Draw weight at 16-22 lbs.
Bow weight at 3.4 lbs.
Let-off from 60% to 70%.
Your kid's youth compound bow comes with 3-pin bow sight, finger tab, quiver, and two arrows.
Of course, making this bow as one of his very firsts won't necessarily wound your pocket when he outgrows this one. That's because Tomcat is not expensive.
PROS
Soft reinforced grip makes the bow easy to hold.
Compound bow is made of fiberglass.
CONS
Right-handed shooters' use only.
---
6

Velocity Youth Archery Race 4×4 Compound Bow Package
Velocity Archery is a brand that you can trust with your child as their first compound bow.
Draw Length: 19 to 29 inches
Draw Weight: 15 to 55 lbs
Brace Height: 7.125 inches
Compound Bow Weight: 2.8 lbs
Full Weight (With Accessories): 3.2 lbs
Axle to Axle Height: 28 inches
Speed: Up to 245 feet per second
Especially with Archery Race 4×4, it isn't a simple archery toy. The mini compound bow is just the small version of the real thing used by the adults.
So if you're looking for a compound bow that could serve as your kid's first hunting companion, the Velocity Youth is an ideal choice.
With the bow's size, draw weight, and height, even kids as little as seven-year-old can use it to accompany an adult in hunting or for practice shooting.
As your child grows up, important specs such as draw length and draw weight are adjustable to match the kid's growing limbs and strength.
With these features, you won't have to look for other brands because Velocity Archery adapts to your growing kid. This compound bow simply won't disappoint you.​
Upon purchase, it is highly recommended that you have it bench-tuned at an archery shop before shooting. This allows that bow to have some practice in its limbs so your child can impressively shoot straight arrows. The downside of these things, however, is that it's only for right-handed children.
When you buy this compound bow, you are getting the package complete with its accessories.
The additional accessories that are included are 3-pin fiber optic composite sight, drop away arrow rest, quiver with four aluminum arrows, and D-loop.
PROS
No need for bow press when making adjustments
Throat grip design is small to reduce hand torque
Machined cams
Aluminum riser with composite split limbs that are fiberglass
Moderate hand torque
Bow includes a drop away arrow rest
CONS
Bow is only for right-handed shooters
---
7

Genesis Mini Bow
If a Genesis works for adults, then it could certainly work for the younger generation.
The main difference of the Genesis Mini and the Genesis Original Bow is its size.
Know that when you buy your kid this youth compound bow, you are buying him the "real thing" and not some simple toy.
This one has some hidden punch in every shot. This bow is proven to be very efficient and is also ideal to be introduced to your child to the world of archery.
Due to the small draw length and low maximum draw weight, small kids starting from three to four years old can easily use the Genesis Mini.
And if you think that children five years old and above can't use the bow, think again.
Draw Length: 14 to 25 inches.
Draw Weight: 6 to 12 lbs.
Brace Height: 6.125 inches
Compound Bow Weight: 2 lbs
Axle to Axle Height: 29.5 inches
Kids who have grown up using this same compound bow for years still use the Genesis Mini as this one is made out of high-quality materials that last for a long time.
Various users have reviewed never to make the kid shoot the compound bow dry without an armguard for safety purposes.
One more issue with this product is that: for Genesis Mini's price tag, you only buy the bow and not the whole package that comes with different accessories.
Though accessories are purchased separately from the compound bow, they won't have a use for children because there's no way you can hunt with a 12-lb maximum draw weight.
PROS
Zero let-off makes shooting easier as you only need to "pull" string from the fingers upon release
Very flexible and easy drawing single cam system
Aluminum riser that is both lightweight and durable
Bow orientation depends if the shooter is left-handed or right-handed
High-strength bowstring that lasts for long
Limb bolts for easy adjustment of draw weight
CONS
Shooting it dry can cause bruises
---
8

Diamond Atomic Package Youth
Diamond by Bowtech is already a household name when it comes to compound bows with their reputation spanning many decades.
Included in their list of patrons are the youth aged 12 years below, that's why there are powerful youth compound bows that you can buy under the Diamond brand.
With Diamond Atomic Package, 4 to 11-year-old kids can use the bow effectively due to its specs i.e. bow weight, draw weight, and length that is youngster-friendly.
Bowtech made this compound bow to entice children to the archery sport and even to hunting.
The maximum draw weight of 29 lbs. is not advisable even for small game hunting as the number is not enough to take down the animal in one shot. The main demerit for this excellent compound bow is that it's only available to right-handed kids.
Diamond Atomic has an infinite setting that results to zero let-offs so you could even share bows with your kid for extra bonding time or share it with friends.
One thing that must be reminded to children every time they hold the compound bow is never to dry-fire it.
Doing so could lead to bruises and could result in damage to the bow. Rotating the limb bolts using hex wrench is required to set the draw weight.
When you buy Diamond Atomic, you get not only the bow but the following accessories: 3-pin fiber optic sight, capture-style arrow rest, two-piece quiver, and three carbon arrows.
PROS
No hand shock due to parallel limb design
Dual cam system made of aluminum
Machined black aluminum riser allows comfortable grip
Dead-on accuracy, Excellent speed
Lifetime warranty
CONS
Expensive for youth compound bow
---
How to Choice a Youth Compound Bow for Your Kid?
As you are buying a compound bow for a young person, the child's opinion matters along with your good judgment.
Your kid is just new to the sport, and you must prioritize how he feels when shooting.
Like: was it comfortable or not? Your adult preferences about who the manufacturers are or what a particular compound bow is made of don't matter here.
Compound bows are preferred by the youth generally as they are easier to shoot with than recurve bows.
Indeed, there are several factors in choosing a youth compound bow for someone below the adult line.
1. Age
Even if there are compound bows for the youth, they can only be used at a certain age range.
When children grow bigger, you should know that he will not only own just one bow. At least before reaching adulthood, your kid will have two youth compound bows.
Some compound bows have a feature that 'the bow grows with you.' You might infer that he can still use it until he becomes a professional hunter. But that's not really the case.
These kind of compound bows are only suitable for a certain age range and as you grow, your needs expand and the compound bow from your childhood just won't cut out.
2. Draw Length
In choosing compound bows, draw length is the first thing you examine from a wide selection. You should know the draw length of your child by measuring his entire arm span and divide it by 2.5.
As kids are of generally small frame save for the exceptionally tall kids, they are expected to be on the short end of draw lengths.
A kid below twelve years old would likely be in 14-24" range.
Determining the draw length will also mean that the size of your bow and arrows will depend on that.
Typically, a young person owning a compound bow would be smaller than a regular compound bow.
3. Draw Weight
Draw weight is the next important thing when you intend to buy a youth compound bow.
As a child is still growing and there's still ample time before reaching adulthood, it's better not to stress his muscles more than he can manage.
| | |
| --- | --- |
| CHILD'S WEIGHT | AVERAGE DRAW WEIGHT |
| 55-70 lbs | 10-15 lbs |
| 70-100 lbs | 15-25 lbs |
| 100-130 lbs | 15-25 lbs |
| 130-150 lbs | 15-25 lbs |
Child shooters should never pull a draw weight they can't carry so they won't receive a backlash later.
Backlash, in this context, means health complications like injuries and body complications like overdeveloped muscle parts while others are underdeveloped.
The ideal draw weight of the child's compound bow should be relative to his weight. The kid should feel comfortable when he pulls the string.
For instance, if he weighs 55-70 lbs., the draw weight range prescribed to him must be 10-15 lbs. Look at the following values below and determine what's optimal for the kid.
4. Bow Weight
The next thing to look out for when choosing youth compound bows is the entire weight of the compound bow.
Note that; younger children aren't used to carrying heavy things, and you must not let them do so.
Heavy bows deprive the comfort that the child seeks in archery. Furthermore, since they're still growing, their upper body doesn't have enough strength for big, heavy compound bows.
A child interested in archery as early as four years old should never carry a bow that is more than 3 lbs. in weight.
However, as a youngster develops, he can eventually take a 3-4-pound bow weight.
5. Let-off
Let-off helps the young shoot arrows without pulling the entire draw weight. This is achievable thanks to the cam systems that make up the bow.
For instance, a (maximum) draw weight of 40 lbs. and let-off efficiency (as advertised) of 75% would mean you're pulling only 10 lbs. of weight.
This feature is what makes the compound bow better than other types of bows.
The let-off is highly helpful for a child to focus more on aiming than the hard part of pulling the entire weight the bow can hold.
6. Price
Prices for youth compound bow are relatively cheaper than the compound bows used by adult archers and hunters.
This is because they are starter bows designed for people who are just starting in the sport of archery.
Among extensive selections, pick a good bow that is priced within your budget and doesn't have parts to be purchased separately.
Conclusion
Choosing the best youth compound bow depends on you, as a parent; on what you think best suits your child.
People tend to develop their exceptional skills and talent if they're trained from a young age. The archery sport is not an exception to that.
The small parts included when you buy the compound bow makes the kid familiar with their uses and how important they are.
Despite our verdict, you can still choose your own. The products we have just listed have their advantages over the other.
Of course, taking into consideration his preferences and the pros and cons, surely you have that one particular bow already in your mind.