Nobody would probably disagree when one says compound bows are the most accurate, most powerful, and simply the fastest bows in the world today.
Traditional bows that date back to the earliest histories are slowly getting out of the picture as modern compound designs become the planet's new favorite as it dominates the sports of archery.
This article introduces the best compound bow 2023 so see what makes them stand out.
Top 11 Best Compound Bows 2023 Compare
1

Diamond Archery Infinite Edge Pro Bow Package – Best Hunting Bow of All Time
First on the list is the compound bow manufactured by Bowtech – one of the leading companies for modernized bows today.
Diamond Archery Infinite Edge Pro is one of a kind bestseller distinguishable for its satisfactory rate because of how friendly it is to entry-level archers.
This versatile aluminum compound bow can be used for small kids to big adults hunting from small game to the largest games or for any other purposes.
I think this is a best hunting bow of all time.
PROS
It grows with the archer as you develop your skills because you can adjust the draw length from 13" to 31".
It can launch arrows at a rapid speed of 310 feet per second with smooth draw cycle and solid back wall.
Let off effectivity at 80% that gives you full draw.
Equipped with top notch dual cam system that synchronizes together for a straight arrow travel.
Good for both left-handed and right-handed.
CONS
This bow comes with a very steep price but definitely worth your purchase.
The equipment must first be assembled to use.
---
2

Bear Archery Cruzer G2 Compound Bow – Quietest Compound Bow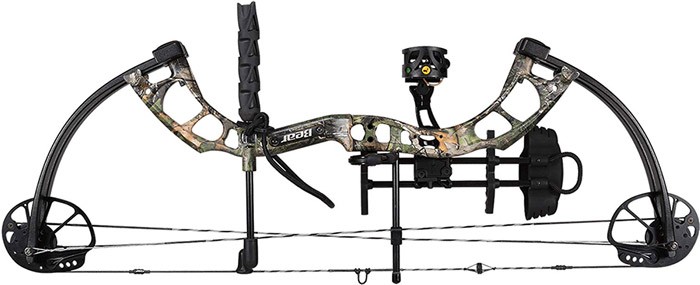 Our list will not be complete without Bear Archery Cruzer.
This 32" axle to axle compound bow was made in 2015, and it was tasked to surpass and meet all shooting conditions from inexperienced young archers to seasoned adult archers.
Despite the sky-high price for this equipment, you are assured you'd get what you paid for.
Consequently, what made this popular in the market is its versatility for all people at shooting age.
This shooting weapon comes with accessories like:
Whisker Biscuit arrow rest
Fiber optic sight
Quiver
Dart stabilizer
Wrist strap
Because it is made of aluminum, it is sturdy enough to withstand pressure from continuous usage. At 3.60 lbs., this is second to the lightest compound bows in this list.
The draw length of this bow at 12" to 30" is fit for all ages.
The draw weight is the wide range of 5 to 70 lbs., and you can hunt all kinds of game.
PROS
The hand torque makes it easier for target accuracy and enhances comfort.
Due to MV cam, no separate modules or bow press are needed to be adjusted.
Due to the different maximum preload quad limbs, the draw and overall power are greatly increased.
It is equipped with offset string suppressors that diminish noise.
It also has a let off effectivity at 75%
It has the same speed as with Infinite Edge Pro at 315 feet per second.
CONS
It is not as silent as other compound bows due to its lightness good for young beginners.
This is mostly a bow for beginners; some advanced features aren't included.
Experienced archers may want more advanced bow with its current pricing.
---
3

SAS Rage 70 Lbs. 30" Compound Bow
The accuracy level is one of the factors that buyers consider when buying a compound bow.
Conveniently, SAS Rage compound bows are one of the best products to contemplate.
In the sport of archery, to have good equipment is to cover half of the bases.
SAS Rage 70 Lbs. 30" is one good bow that will make you hit the mark, bull's eye! Its affordable price doesn't hinder its high-quality performance.
When you buy SAS Rage 70 Lbs. 30" package, you get:
Braided bow sling
5-pin bow sight
Arrow rest
Stabilizer
Peep sight
The dual cams made of aluminum can provide adjustable draw length of 26" to 30".
The draw weight from 55 to 70 lbs. max can produce enough power to score small game.
Its maximum speed of 270 feet per second can be achieved if you go to max draw weight.
The compound bow weighs at 4.4 lbs.
PROS
Its draw cycle is very smooth – good for novices
This compound bow has 70% let off effectivity.
It also has a design feature that is good for novices because it's comfortable to hold.
The camouflage design helps the bow blend in the surrounding area.
CONS
Consider adding a noise dampener to resolve vibrating strings.
Some accessories are to be purchased separately.
It is only for right-handed people.
---
4

SAS Siege 55 lb 29" Compound Bow w/ 5-Spot Paper Target
The next product on our list is made by the same company that sells the previous product, SAS Rage.
SAS Siege is not entirely different from SAS Rage, albeit it has a reduced force and speed.
This is particularly a good practice bow for beginners that come with a very extremely affordable price.
Thus, this compound bow is rated as one of the cheapest bows in the market.
Its package includes:
5-spot paper targets
Archery target armguard
Target practicing arrows
With a draw weight of 40 to 55 lbs., this bow is good for hunting small game.
It has an extended life thanks to compressed ABS limb that has good span balance, weight, and strength.
An arrow launches at 206 feet per second with its maximum draw weight. The recommended arrows to use are made of carbon and aluminum.
PROS
It comes with enhanced accuracy brought by the back pivoting limb pockets.
This is a big bow spanning 41.5" axle to axle.
Its draw length of 29" is very suitable for the majority of archers.
Let off effectivity at 70%.
The equipment is pretty lightweight at 4 lbs.
CONS
The left-handed can't use this equipment because this was designed for the right-handed.
This bow is suitable for adults only. It is not recommended for the youth to use because the draw length isn't flexible.
---
5

Genesis Original Bow – Best Compound Bow for Beginners
If you ever need a compound bow as an introduction to archery for the young masses, Genesis is fit for the job. It is included in our list due to many reasons.
Archery schools choose this compound bow for their training sessions and also within families because it's quite adjustable and fit for anyone who uses it.
It comes in many colors making it very friendly with children and fashionable females at that.
Aside from the bow, Genesis Bow Package includes:
Vinyl tube quiver
Aluminum target arrows
Armguard with reinforced straps
Molded competition grip
NAP flipper style arrow rest
Stainless steel cable guard and cable slide
This compound bow offers no specific draw length, perfect for anyone to use.
Its adjustable weight of 10 to 20 lbs. makes it easy for beginners to shoot at the shooting range.
Due to its one cam, users won't deal with hard recoils or tuning issues.
Its lightness comes with 0% let off, and the draw cycle is very easy to most people.
PROS
It produces more accurate shots with less noise.
It is very affordable for first-timers.
This is a pretty smaller bow at 31.5" axle to axle.
One of the lightest bows at 3.2 lbs.
Available for either left or right-handed.
CONS
If an archer's skill increases, it is best recommended to buy an advanced compound bow.
The maximum speed at launching can't be calculated because the draw weight is not at the standard requirement of 70 lbs.
---
6

PSE ARCHERY Full Throttle Compound Bow – Fastest Compound Bow

PSE is short for Precision Shooting Equipment, and this full throttle compound bow is a true feat of precision engineering.

It is capable of shooting at a lightning speed of 370 FPS, an impressive and superior number compared to most competitors on the market.

These fastest bows do not compromise quality, as they achieve deadly accuracy that promises to smash every target on the hunt.

The "Full Throttle" aims to reduce the pounds you have to pull in to get the performance you are looking for (also known as the draw weight).

We also appreciate the draw length, which is adjustable in half inch increments, from 26.5 to 30 inches.

The Full Throttle is also well known for the ultimately silence and minimal hand shock. Imagine how great it is in a hunting trip when you can approach the target and shoot without making any noise!

When you first take a glance at the specifications of this compound bow, you may find the brace height a bit short.

However, coupled with the pre-loaded and parallel limbs, this turns out to be a selling point of this PSE as it offers clean and forgiving shots. Give it a test shot and you will see!

The only thing to complain for is the too short valley, which forces you to pull harder into the back wall when shooting.

Some may find the sky-high price the second drawback, but on the whole, the performance of this compound bow is totally worth the investment.
---
7

Bear Archery Escape – Best Compound Bow for Target Shooting

This Escape is a flagship bow of Bear Archery that incorporates a top-notch performance with an affordable price.

The compound bow offers a real "escape" from the hustle and bustle of life on the hunt.

First off, we will talk about some technical aspects respectively, including the draw length, axle-to-axle length, brace height, and the speed.

Similar to the Full Throttle, the Escape's draw length ranges from 2.5.5 to 30 inches.

Meanwhile, the axle-to-axle length is 32 inches, which makes for a stable platform as well as a compact design. Archers can carry these compound bows along on the hunt with ease.

Together with the 6-inch brace height and up to 350 FPS, it is understandable how the Escape is the best-seller flagship models of Bear Archery.

Now we will dig in the unique features that make the Escape sought-after in the market. The 7075 aluminum series riser with string stoppers at the top and the bottom of the bow allows you to achieve absolute quietness with every shot.

Also, shooters can attach any stabilizer, quiver, or sight to the riser without any hassle.

Plus, this compound bow offers 15 pound weight adjustments, which is higher than most other bows on the market.

There are only four finishes available for you to choose from, including Realtree Xtra Green, Shadow, Olive, and Sand. We would appreciate if the manufacturer released more offerings in the future.

On the whole, the Bear Escape is designed as a hunting compound bow, so it will perform best if you use it for hunting and target shooting.
---
8

Diamond Carbon Knockout – Best Compound Bow For Women

Long gone the days when archery was for males only. Nowadays, women can join hunting trips to relax and have fun with their partners.

And this Carbon Knockout compound bow is known to accompany plenty of famous huntresses. Let's discover how!

Even men can hardly resist the visual appeal of this bow, let alone women who adore the aesthetic beauty.

Join the hunt and stand out from the crowd with this bow!

Appearance aside, this Diamond product also captures the attention of female shooters with the outstanding design. All the technical aspects are specifically designed to fit the needs of women shooters.

The draw length can be adjusted from 22.5 to 27 inches with the axle to axle length of 30 inches. The draw weight reach up to 60 pounds, and users can achieve the maximum speed of 302 FPS. Impressive!

Do not worry even if you know nothing in the field of archery. This Carbon Knockout bow equipped with binary cam technology, which delivers instant accuracy and hassle-free tuning.

Many previous users loved how comfortable it is to tune the bow to their likings.

The Carbon Knockout comes with full of additional accessories so that you can start hunting right away. To be specific, you will receive an RAK custom sight, deadlock lite quiver, ultra-lite stabilizer, carbon peep, and a comfort wrist sling.

However, the model is available in right-handed configurations only. It would be a pity if you are a left-handed female shooter.
---
9

RAPTOR Compound Hunting Bow Kit

This Raptor compound kit is one of the hottest offers on the market for good reasons.

First off, you will be impressed with the well-built construction of every item on the kit. The cams are made of aluminum while the limbs are crafted with fiberglass in the USA.

Considering the premium-quality material, this hunting kit is undoubtedly the best value for money.

In terms of technical aspect, the Raptor compound bow achieves up to 315 FPS at full speed with 75% let-off, which significantly reduces the weight you have to pull in to draw fully.

The adjustable draw length (24.5-31'') and draw weight (30-70 lbs) also promise you a great hunting experience.

The compact design of 30'' axle-to-axle length and 3.6 pounds weight make it hassle-free for shooters to carry the bow along on the hunt, especially novice ones.

Now let's talk about the accessories delivered in the package. Customers will receive 5 pin sight with light and level, whisker biscuit style rest, and a stabilizer. Rest assured that all are of decent quality.

One minus point is the cableguard issue, which occasionally becomes loose and slips out. To avoid this case, make sure you tighten all the screws well before taking the bow for any competition.

We want to kindly notice you that this Raptor compound hunting kit is not an ideal option for beginners.

Purchase it only if this is your second bow or you have got the hang of archery. Otherwise, it could be a waste of money.
---
10

Leader Accessories Compound Bow – Best For Medium Game

This compound bow kit stands out from the crowd with the exceptional adjustability.

Feel free to customize the bow to your preferences with the draw length from 19'' to 29'' and the draw weight from 30 to 55 lbs. Few compound bows offer such versatility!

The speed is somewhat inferior to what others on the list may offer, but it is still impressive for a 30 to 55 pound bow.

This speed is the intention of the manufacturer as they want to focus on the compact nature. For your concern, this bow measures 28 inches axle to axle, and weighs only 3.3 lbs. The lightweight design makes it ideal for youngsters and women with small frames.

The outstanding innovation Leader Accessories offers in this model is the cutout design, which will reduce the effect of wind to the least. This is to increase the accuracy of your shot as well as absorb vibration and hand shock.

Another selling point of this unit is the excellent dual cam system with optimal position. Thanks to the high-performance cam, you will have a more direct string angle to shoot more accurately.

You will have everything you need to start hunting with this package, including fiber optic sight, arrow rest, D string loop, peep sight, release aid, wax, and 2 pieces of 30'' arrow. However, a cable seems missing here.

If all features above cannot help you make up your mind, let the last thing do.

The Leader Accessories backs its products with one year warranty, excluding string and cables. Within the warranty period, you can count on the manufacturer's service if there is any problems arising.
---
11

GEN-X BOW – RH/LH – Best For Ease-of-use

Are you a beginner searching for a simple compound bow that is effortless to use? Look no further, as this Gen-X bow is your ideal option.

Judging from the appearance, you can tell that this model is a durable bow that can last for years.

On the other hand, it is still lightweight(only 3.4 pounds) and compact thanks to the machined aluminum material.

In terms of technical aspects, this compound bow offers a range of draw weight from 25 lbs to 40 lbs, allowing you to increase the speed of your arrows greatly.

Adjusting the draw weight requires a 3/16'' hex wrench, which the manufacturer already provided in the kit. How convenient!

The wide range of draw length from 21'' to 3-'' is another plus of this Gen-X bow. This makes the compound bow suitable for a large group of shooters, from amateurs to experienced ones.

The package comes with aluminum riser, aluminum cam and idler wheel, composite limbs, cable guard, and molded competition grip.

However, arrow rest and arrow nock are not included. You have to buy these two accessories separately.

All in all, this Gen-X bow is known for its ultimate ease-of-use, which suits beginners and intermediate users. It is recommended for target practice and small hunting game.
---
What Makes Compound Bow Different From Traditional Bows?
Even the first traditional bow is already a significant invention of humanity.
Imagine throwing an arrow without a bow; you can't probably even penetrate a coconut.
The bow has an excellent mechanical lead of control because as you draw an arrow, it stores a massive amount of energy in the flexed limb that allows you to shoot an arrow in an exponential amount of force compared to only throwing an arrow with your bare hands.
Traditional Bows
This includes recurves and longbows. Traditional bows store energy directly. The more you draw the arrow, the more energy is stored.
In proportion to that, the amount of energy exerted from pulling the arrow is the same energy transferred towards the arrow once you release it.
This means that in traditional bows, pulling the arrow away as far as you can is what matters. This means that your raw effort is what it takes to make a faster shoot.
However, this comes as a disadvantage for people who have weaker arms.
Not only that, even if you are considered "strong," you'll still have a hard time using traditional bows.
The explanation behind is simple. Drawing a bow all the way to your ear means you're already holding the entirety of the bow and arrow which is the draw weight.
If your bow draws around 65lbs, this means you're holding a total of 65lbs right between your hands! This is hard, especially for beginners.
Compound Bow
The once astonishing design of a traditional bow is further improved with modern innovations that gave birth to compound bows.
In using a compound bow, you won't need to hold the entirety of the 65-pound draw weight.
Compound bows have cams – wheels on its both ends. Cams have a profile specially designed to provide the so-called "let off" at the end of each draw.
Let off happens after the draw weight has come to its peak; it describes the events involving the cam as it totally rolls over.
"Let off" is the occurrence when the drawn string triggers the cam to turn, resulting the limb to bend.
Once the cam does its part, the limb becomes crooked making you not obliged to support the entire draw weight anymore, hence "let off".
Typically, the "let off" is amazingly 60 to 80 percent of the draw weight.
This means that enormous percentage is no longer your responsibility to hold and maintain, providing you the luxury of focusing on your aim rather than spending attention and effort in holding back the arrow (as what happens when using traditional bows).
With the "let off", you can now hold a full draw for a much longer time so you can hold the bow much steadier, giving room for a dramatic increase in accuracy.
---
Advantages of A Compound Bow
Has A Special Release Mechanism For A Steadier Shot
Compound bow enthusiasts love the special release device that can be utilized in combination with the bow.
Compared to using one's fingers, using the release mechanism offers a steadier release which is a big factor in successfully shooting your target.
This release mechanism fastens to the bow close to the arrow.
With a firm pressure and stable motion, the archer releases the string so easily by using the trigger on the device.
That's why you should have one of the best bow releases for yourself.
Can Use a Sight in Conjunction for an Effective Aim
Another advantage of using a compound bow is you're allowed to use a bow sight in tournaments.
It is a vital device that provides you with a more accurate shot by magnifying the target; consequently making you aim in a precise manner.
On the other hand, official rules don't permit the use of scope when you're using the standard long bow. Thus, it gives you a great advantage over your competitors.
Rubber Blocks for an Effective Shot
​Draw-stops are rubber blocks that gives you a wall to draw up against; it's the maximum point where you can draw your arrow.
Now, what makes this thing useful? This device can be adjusted to suit an archer's most effective draw length.
By having this feature, you're able to have a consistent force applied on the arrow for each draw which is vital to have effective shots.
Every time you draw, you put the same energy for each arrow. With that, you only need to focus on your aim and the bow will do the rest.
As a result, you increase the level of your accuracy.
Made With Durable Materials
Most compound bows can better withstand fluctuations in humidity and temperature, making them more ideal to use in outdoor activities compared to standard bows made of wood which is not built to last.
Compound bows can better hold up to the elemental factors that are responsible for the overall efficiency of the bow (heat, temperature, etc.).
Since it's durable, you can expect it to perform better even in undesirable conditions.
Built With Cams for a Better Speed
Cams are one of the most important aspects of a compound bow and are one of the reasons why a compound bow stands out among other types of bows.
Cams have particular designs that are used to modify the arrow's speed of acceleration.
A "hard cam" allows an arrow to glide at very high rate of acceleration.
On the flip side of that, a "soft cam" makes an arrow shoot at a slower rate of acceleration.
With that in mind, experts suggest beginners use soft cam since they are new to archery and work their way up until such time they can use the hard cam for a more extreme use.
Pulley Mechanism for More Speed
Just when you can't get enough, another mechanism comes into the picture.
A compound bow has a pulley mechanism that utilizes a simple balanced wheel at the top and a single cam at the bottom of the bow.
With this feature, the bow won't need more cables as a single string can already suffice. And a single string bow means a big thing – more speed.
Compound bows have an amazing speed of 100 m /sec or 315 ft. / sec. or more!
---
Best Compound Bow Ultimate Selection Guides
There are some factors you need to take into serious consideration when buying the best compound bow. Check them out below!
Speed
The speed of modern compound bows fall in between 22 feet per second (FPS) and 300 FPS. Before deciding on this critical aspect, you need to understand what the arrow speed has to do with your shoots.
First off, a faster bow can penetrate the target effectively thanks to the added force. This will come in handy in hunting game when you have to take down animals.
Also, the increased speed helps you approach your target much faster.
On the other hand, slower bows promise more comfortable shoots, which probably leads to improved accuracy. Plus, the shooting noise is greatly reduced.
If you are a beginner, there is no need to be obsessed with FPS. Just go with the one that you find convenient to shoot.
Axle Length
The axle-to-axle length measures the total length of the compound bow. To put it simply, shorter bows offer greater maneuverability.
However, it often gets harder and requires more practice to shoot with these bows. Therefore, novice archers are advised to go with longer axle length first as they are more forgiving and easier to shoot.
Brace Height
For your concern, this term refers to the distance between the grip and the bowstring when you do not draw the bow. Higher or lower brace height will result in differences in speed or accuracy in shooting.
Generally speaking, the lower height will enable you to shoot faster, unfortunately, at the expense of accuracy.
In contrast, it takes you more time to adjust and shoot the target using a bow with higher brace height, but the accuracy is improved.
Each person may favor a specific brace height that allows them to perform the best in the hunt.
However, most shooters find 7 inches optimal, while 6 inches is regarded as speed and 8 inches is for competition only. It is advisable to try different brace heights to find out yours.
Let-off Percentage
Have you ever heard of it before? This is a technical aspect unique to the field of bow, which refers to the percentage of weight that the bow supports you at full draw.
Most modern bows have up to 80 percent of let-off, so you only have to bear 20 percent of the draw weight when aiming.
Generally, amateur shooters will need 70-80 percent of let-offs. When you get familiar with the game, 60 percent shall be fine.
Draw Length
This length measures the distance from the grip to the bowstring when you draw the bow fully. This is one of the most essential aspect that determines your speed and accuracy.
Also, a suitable draw length will reduce the possibilities of physical injuries related to the arms and shoulders when shooting.
Nowadays, bows often come with adjustable draw length for added convenience. However, while some allow you to adjust the length yourself, others may require specific machines to change the set distance.
Now the question is: how to determine the suitable draw length?
Well, feel free to visit any archery store and the staff will measure it precisely in no time. You can also estimate the ideal length by dividing the span of your outstretched arms (wingspan) by 2.5.
However, for amateur or first-time shooters, we advise you to get the right measurement with the help of pro-staff at the archery store. This is to avoid any inconsistencies while aiming the target.
Draw Weight
The draw weight refers to how many pounds (lbs) you have to pull in to draw the bow fully. Innovative bows are often versatile in this aspect, which offers a minimum adjustment gap of 10 pounds.
Below we have a table illustrating the recommended draw weight for each body type.
| | |
| --- | --- |
| Archer's Weight | Suggested Draw Weight |
| Small Children (70-100 lbs) | 10-15 lbs |
| Larger Children (100-130 lbs) | 15-25 lbs |
| Small-Frame Female (100-130 lbs) | 25-35 lbs |
| Medium-Frame Female (130-160 lbs) | 25-35 lbs |
| Small-Frame Male (120-150 lbs) | 30-45 lbs |
| Medium-Frame Male (150-180 lbs) | 40-55 lbs |
| Larger-Frame Female (160+ lbs) | 30-45 lbs |
| Larger-Frame Men (180+ lbs) | 45-60 lbs |
Some Accessories
Some manufacturers pack nearly everything shooters need to get started with the compound bows.
At first, you may great appreciate this as it saves time on searching and buying additional accessories.
However, bow packages may come with something you do not want or have to replace later, which would turn out a waste of money.
Therefore, we advise you to take a look at what exactly comes with the bows and consider whether you need them or not.
Conclusion
All the products listed are preferable in their own ways.
However, choosing the best compound bows depends upon their versatility for the users and also the pros and cons enumerated.