For those who love fishing, investing in the best spincast reel is a must. It can help both beginners in the field of fishing, as well as the more experienced ones.
It helps solve the problem related to backlash usually present in bait cast designs.
What's more?
It reduces the snare and line twist complaints usually linked to the traditional spinning reel designs.
However, note that while this tool is extremely useful, finding the best out of the many spincast reel options in the market can be a bit of a challenge. You have to figure out which one can really meet your needs.
Top 5 Best Spincast Reel 2023
In this case, I have narrowed down five of the best choices and provided information about each one, so you can make an informed choice.
1

Zebco 888 Spincast Reel – A User-friendly Option
This is a good choice for you if you're planning to target bruisers but prefer to bring easy-to-use spincast gear with you.
This powerful and huge reel can help you handle monster cats, snook, salmon, and many others.
Most of its parts are heavy-duty, including the front cover made of stainless steel, as well as the reel foot made of solid metal.
It also makes use of high-quality metal gears that promote durability, as well as hassle-free performance.
However, take note that despite the many good points of the Zebco 888 Spincast Reel, it also has some cons, such as being heavy.
Aside from being heavy, many also find it too big and bulky as it is almost two times bigger than the size of a typical spincast reel.
If you're not used to bigger versions of the reel then you may find using it a challenge but only at the beginning.
Despite its few flaws, you will still love the many features of Zebco 888. It has a 2.6:1 gear ratio, continuous anti-reverse clutch, a smooth 3-bearing system featuring dual-drive bearings, and an oversized power knob.
All these features, when combined, makes the reel even more powerful.
Moreover, its design has an anchored-down thumb button. This makes it a bit easier to operate while also providing a more solid feel.
It has a large, stamped Power T-handle made of stainless steel, which promotes a firmer hold. The 3 ball bearings featured in this reel also help promote a much smoother line movement.
Just make sure that you're ready to take on the flaws of this product, such as its heavyweight and bulky feel, so you won't end up getting too disappointed once you get it.
PROS
Rugged and solid construction
Has fish-fighting torque designed in a user-friendly way
Features dial-adjustable magnum drag
Solid T-handle
Solid metal construction, which can lengthen its lifespan
CONS
Quite different from the standard reels, so it often takes time to get used to it
Heavier and bulkier than the others
---
2

Zebco 33 Platinum 5 Ball Bearing Spincast Reel – Designed for One-hand Casting
This spincast reel may have extreme versions of drag.
This could be a good or a bad thing depending on the user, as well as the day you intend to fish or the reel you plan to use.
It also tends to slip and grind, and the drag setting has a huge impact on the cast's length.
Despite these issues, the Zebco 33 Platinum spincast reel with 5 ball bearings is still a good choice for you. It's a good option if you are fond of fishing from your kayak.
It is also easy to use, so expect it to be a good buddy if you plan to do one-handed casting.
Its entire body is constructed out of metal and its handle is long-lasting and durable. The built-in five bearings are helpful in casting and retrieval.
Note that some reels may be improperly assembled, so there's a need to exchange them based on where you bought them.
Another thing that you will notice about this spincast reel from Zebco is the micro-fine drag, which offers accurate and precise flexibility. A hook holder is installed in it, which aids in hiding the hook point.
You can access it on both sides of the reel. This spincast also delivers cutting-edge improvements, making it more durable, reliable, smoother, and stronger.
It makes use of an improved line management system, making the reel more efficient when it comes to casting. It also somehow improves line retrieve and provides better control.
Other features that you'll instantly notice in this spincast reel are its lightweight aluminum frame, industrial-grade covers made of stainless steel, soft-touch thumb button and handle knobs, continuous anti-reverse technology, and reversibility capability designed for both left and right-hand retrieval.
PROS
Simple design but with a durable construction and solid feel
Has a 4:1 gear ratio, which helps in quickly reeling your catch
Five ball bearings help in making the reel function smoothly and improve its performance
The handle knobs are smooth to touch, adding comfort when fishing
Changeable retrieval, which further increases its flexibility
CONS
Not as solid and smooth as the other versions
Have extreme versions of drag, making it a bad choice for some users
---
3

Pflueger President Spincast 10 Reel – A More Lightweight and Reliable Option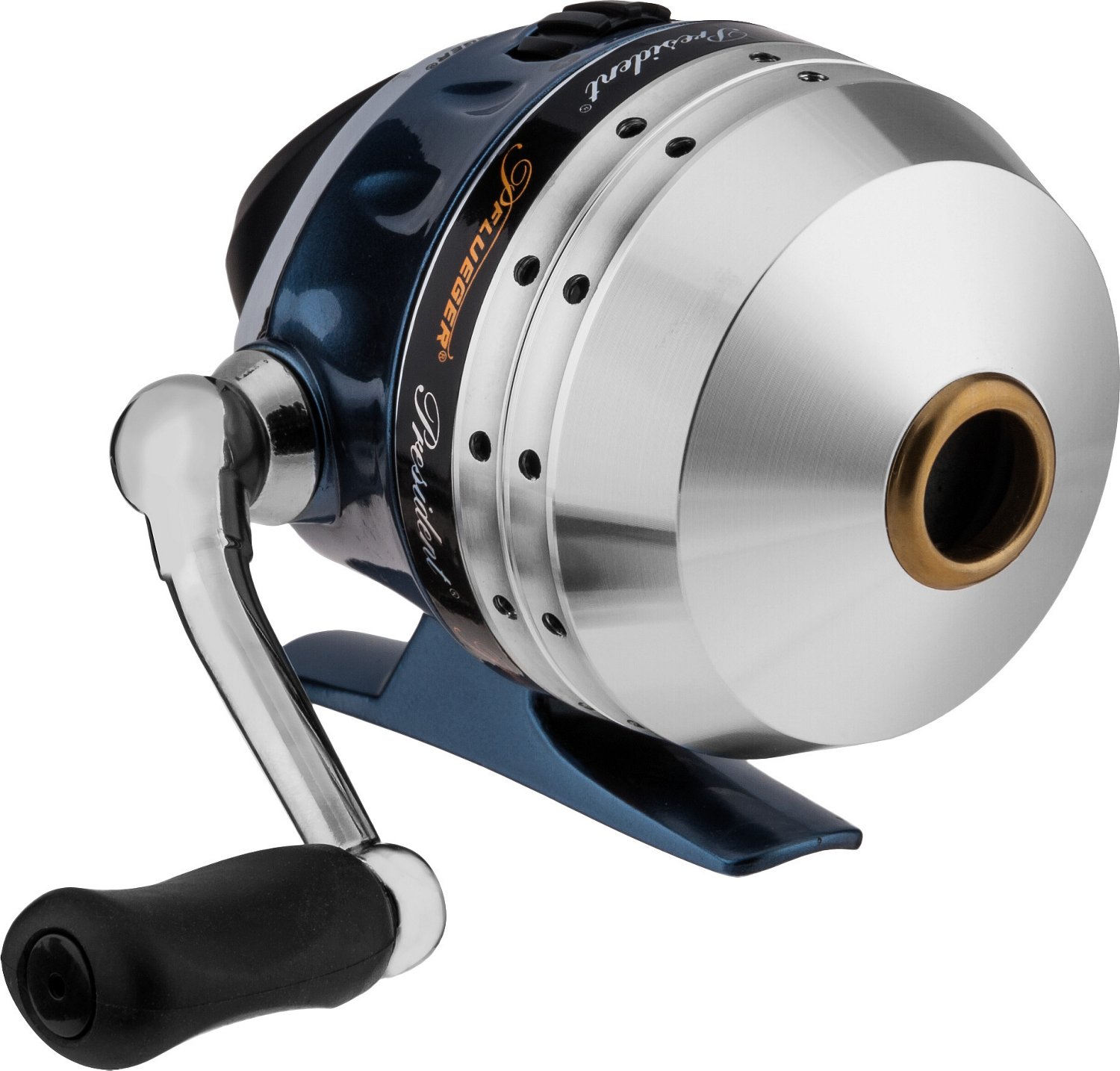 Pflueger President Spincast 10 reel is also one of the best spincast reels today but it also has its flaws just like the other products in this category.
One is its plastic thumb button, which makes the reel a bit harder to use.
The hinge pin also tends to break within forty to fifty-nine hours of using it.
While you will have an easier time replacing it, be aware that it also causes some pain when fishing. It would have been a much better product if the thumb button is constructed out of steel.
Despite the mentioned issues, it's still a good choice for many people because of its many useful features.
One is its ability to deliver a higher level of reliability and lightweight performance.
It features a 10-bearing system, which is guaranteed to be smooth. This system helps promote more consistent fluid casts and retrieves.
It also has a braid-ready spool. This specific feature makes it possible for you to tie-braid the line into the spool directly.
It has a sealed carbon drag, which also improves its fish fighting power. The fact that it is sealed also helps ensure that any unwanted debris doesn't penetrate the product, thereby prolonging its life.
PROS
Lightweight Aluminum material
Excellent performance and durability
Ideal for a variety of finesse and light line applications
Capable of casting a mile using any lure attached to it
CONS
Plastic thumb button, which tends to hamper its performance a bit
---
4

Zebco Omega ZO3PRO – Best  Spincast  Reel for Beginners and Weekend Anglers
This spincast reel from Zebco is designed in such a way that it can provide you with a reliable and smooth performance.
However, it also has some flaws including the extremely sensitive drag adjustment wheel.
It easily bumps off, often resulting in a lost bite. The drag system adjustment can also cause some problems at times.
Still, it's a good choice if you're in search of a spincast reel, which features a durable construction that you can expect to last for a few years.
It is easy to use, especially for beginners, as well as a weekend angler – both of which don't want to spend too much time making adjustments. They can use it to cast a line into the water right away.
It also features multiple ball bearings, as well as a high gear ratio, which helps deliver a smoother performance once you cast and retrieve it.
PROS
Good performance especially in casting
Easy to use on heavy lures
Smooth retrieval process
Offers a hassle-free operation
One of the most inexpensive options
CONS
Drag adjustment wheel is too sensitive, causing some problems occasionally
---
5

Daiwa Goldcast Spincast Reel – Good for Professional Fishermen and Heavyweight Fishing
Daiwa Goldcast Spincast Reel is also a good choice, although it's quite noisy when you're operating it.
Still, you can overlook that minor flaw because of the many benefits that it provides.
Some issues on drag adjustments are also discovered.
For instance, it does not have a strong drag compared to other products.
The good news is that it works well for several users as it is capable of withstanding even the harshest conditions.
It can address the needs of all types of users and is useful in several fishing activities.
A lot of professional fishermen prefer to use it because of the maximum output it provides. It also works well for heavyweight fishing.
Other features that make this spincast reel distinctive are the optimized line aperture designed to help you cast more effectively, multi-disc drag, rugged body made of metal, and ball bearing drive.
It also comes with an oscillating spool, which is designed to improve accuracy in level-winding.
PROS
Has a large aperture
Operates well with select low braid
Rugged and durable construction
Has a rotating carbide line pickup, which you can use for smooth casting
Has 12-ounce line capacity, boosting its strength for heavyweight fishes
CONS
Produces noise
Some issues on drag adjustments
---
Things to Consider When Selecting a Best Spincast Reel
Now that you know some of the best spincast reels in the market today, it's time to study the specific features that you have to look for, so you can make the most informed choice.
Here are some vital factors you have to consider:
Gear Ratio
Look for a greater gear ratio because it also translates to faster retrieving speed. Note that this ratio indicates the retrieval rate. One of your best choices is a spincast reel with a 5:1 gear ratio, as this makes it capable of providing enough speed for smaller baits and soft plastics.
However, note that it does not work that well on crankbaits or spinners.​
Materials
It is also important to check the materials used in the spincast reel. It should be made of high-quality material to ensure that its quality is top-notch.
If possible, go for those made of metal as it guarantees that the product will serve you for a long time. It also improves the reel's strength, making it more useful in catching larger fish such as catfish and Northern spikes, as well as smaller ones, like tuna.
Plastic reels are still great but only if you intend to use them on smaller fish.​
Ball Bearings
You have to check how many ball bearings your options have. It's mainly because the ball bearings have a say on how smooth the spincast reel will operate.
A higher number of ball bearings means that it can operate smoothly because it promotes smoother rotation with the metal balls built inside.
If you are in search of the best spincast reel, then go for one with at least five ball bearings.
Anti-reverse Handles
This is an important factor as you wouldn't want to utilize a reel with some backward motion. Note that this indicates that the hook sets are inaccurate and weak.
With the anti-reverse handles around, you'll have an easier time preventing the handle from spinning backwards.
Drag System
Make sure that the drag system in your chosen spincast reel is highly efficient. This makes it easier to pull the line in case the reel is under pressure.
Conclusion
These are just few of the many factors you ought to consider when shopping for the best spincast reel.
Don't forget to read extensive reviews from reliable sites. Keep in mind that the best one does not necessarily mean the most expensive choice.
Your best choice is one that combines durability, quality, responsiveness, functionality, reliability, and affordability. It should also meet your specific requirements and needs.