Winter has come! And it makes open water fishing season naught for some time. During winter, all bodies of water like lakes and ponds become completely frozen.
Various folks who like to make the most of the time during this cold season have turned to ice fishing.
The best part is having no need for a boat for getting to the center of the lake! You can simply walk on the ice that covers it. But to get started with ice fishing, you need special equipment.
Let's start with the best ice auger. Its purpose is to drill a hole in the ice to access the cold-water fishes.
Top 5 Best Ice Auger Reviews
Here are some of the best product models from reputable brands with detailed reviews.
You can also refer to our buying guide at the later part of this article to help you assess how to choose the most suitable one for you.
1

Thunderbay B52 10-Inch Power Ice Auger – Best Gas-Powered Ice Auger for All Conditions
Thunderbay is relatively new compared to other brands, but they mean business with their ice auger models.
If you want an ice auger that will function well under any condition, model B52 will surely work best for you!
B52 boasts a 52cc two-cycle engine that guarantees great working conditions even if it's the coldest temperature.
This fuel-powered ice auger uses the Thunderbay Cold-Start Super Charger for easy starting in all conditions.
For this 42-inch ice auger, it can drill holes as fast as 8000 RPM!
That's quite fast thanks to its advanced engine that lets you drill 10-inch diameter holes in full power and fast speeds.
For B52, there's also another version which uses 8-inch blades.
This ice auger features precision ground blades made of high carbon steel for a more efficient drilling. Its exterior are ergonomically designed like its oversized recoil handle.
It fits your hand even with gloves on. It also has a nice finish completed with a see-through fuel tank so that you know how much fuel you have left before refilling.
Thunderbay B52 is a good deal for an ice auger. However, you will have to adapt to the fact this is quite heavy. The 35-pound weight is pretty exhausting especially when you have to make multiple holes.
A great feature you'll surely like is the throttle control with a safety switch for your safety in unexpected situations.
On the bright side, this auger comes with a blade cover and a protective muffler guard.
PROS
Fast and powerful
Functions even in the coldest temperature
Fits to gloved hand perfectly
See-through fuel tank
---
2

Eskimo Mako 43cc Power Ice Fishing Auger – Best Power Ice Auger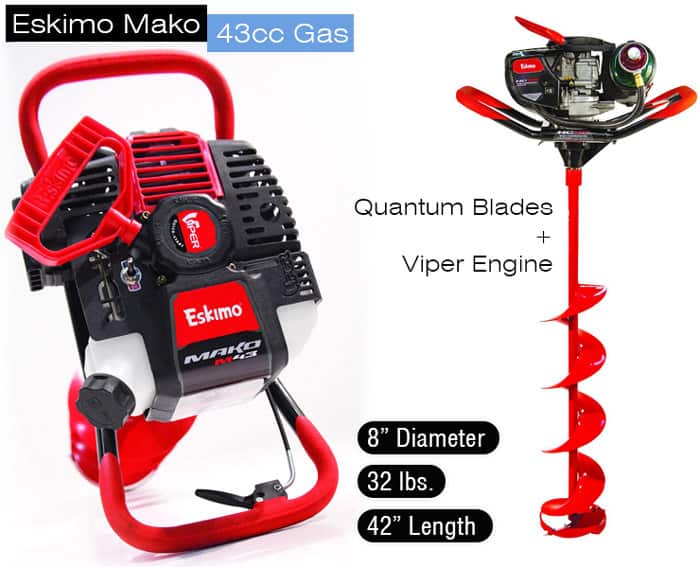 Eskimo has been around since 1960 and is considered as one of the powerhouses when it comes to augers.
Using their Mako 43cc model, you can now abandon your struggle when it comes to drilling through thick ice with just a hand ice auger.
This gas-powered auger can do it in mere seconds! It's a general favorite among the fishers because its blades stay sharp for a long time and their replacements are easily available.
Mako can cut through ice effortlessly through their 43cc Viper two-cycle engine. It has an Auto-Prime Fuel System which is good for quick starting.
Just click on the on/off toggle switch, and you can begin right away. It has a high torque of 9000 RPM, so drilling 10-inch diameter holes is done in a few seconds.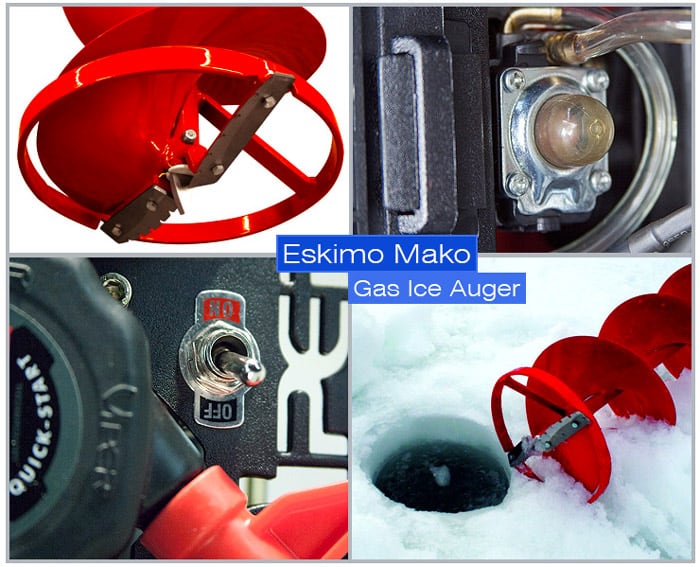 Instead of standard blades, it makes use of symmetrically serrated Quantum blades which cut faster and provide the right balance between smooth operations and controlled cutting.
The blades are said to be good in re-drilling because of its unique centering ring. This is ideal to prevent drilling angled holes.
Just like most power ice augers, Eskimo Mako is quite heavy at 34 pounds. You should be ready to work out your back muscles in order to continue carrying it when you drill multiple holes.
As for its external appearance, the 42-inch Mako is of red color. It has a see-through fuel tank, foam-grip handlebars for added comfort, and oversized recoil handle for your gloved hands.
Moreover, there's the muffler guard to protect you from the heat of the machine.
PROS
Handlebars absorb vibration
Activation is through the toggle switch only
High compression ratio
Serrated blades
---
3

ION 40V Max Electric Ice Auger – Best Electric Ice Auger
For ice fishing, this ION 40V is quite reliable and efficient. It's a favorite for fishers who don't like having a heavy gear to carry.
This one just weighs around 21 pounds. It has a unique design, and the widespread handlebar makes this thing easier to operate.
This ice auger generates no fumes because batteries power it, making the machine lightweight and quiet.
It makes use of lithium-ion battery wherein it boasts high performance for a variety of applications. You can expect your ice auger to work without recharging for some time.
ION makes use of its special system in which you don't need for scooping after every drill.
The holding of the reverse button for 15-20 seconds allows you for slush-flushing action to flush your hole clean. The drilled holes are measured to be 8 inches.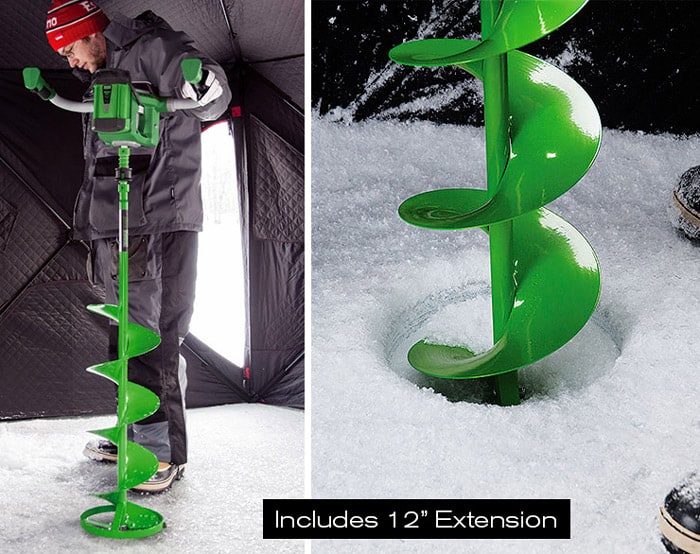 The exterior of the auger comprises of all steel which adds to its durability feature. The ice auger also has an extension feature wherein it adds about 12 inches to the standard length.
From 34 inches, when you connect the extension, it becomes 46 inches. This is excellent for digging the thickest of ice.
Aside from the cost which is high for some people, one apparent setback for electric ice auger types is its battery. Though it drills about 40 holes before losing its juice, you will have to keep the battery warm at all times.
Also, before you can stow the machine away, dry it thoroughly first so the rust won't form on the unpainted areas.
Other features include the oversized trigger with safety system and the electric momentary quick stop break.
PROS
Lightweight
Reverse feature
Lithium ion battery technology
Quiet
CONS
Very expensive
Sensitive battery towards freezing weather
---
4

Jiffy Pro 4 Lite Ice Auger – Best Propane Ice Auger for the Money
Jiffy is an American brand known for pioneering augers specialized for ice fishing in the late 1940s.
They don't make any electric or hand ice augers, so you can expect that their propane ice augers are top notch.
The Pro 4 Lite doesn't require you to mix fuel and oil, so using this machine shouldn't pose any difficulties.
Starting the Jiffy engine doesn't require priming or choking. Activating the machine is through the extra-large pull-cord handle.
The 38cc four-stroke engine promises cleaner combustion process which results in lesser engine emissions and exhaust smell.
One of the main advantages of this Jiffy ice auger is its lightness (at 26-28 lbs.) as opposed to the conventional gas ice augers.
It is calculated that Pro 4 Lite is 18% lighter compared to typical four-stoke drills.
Moreover, the machine makes use of Ripper serrated blades for a more efficient drilling of either 6" or 8" holes.
Sometimes pulling the cord to start the engine won't make the machine functional. The freezing weather might be to blame.
To overcome this problem, have a spare propane tank an enjoyable you that you've been storing in a warm environment.
The blades are protected with the included blade protector.
PROS
Lighter
Low maintenance
Clean exhaust
No priming or choking
CONS
Expensive
Engine may fail from starting if the propane tank isn't warmed
---
5

Strike Master Lazer Hand Auger – Best Hand Ice Auger
Hand augers are still useful up to this day even though more advanced ice augers have appeared.
After all, when all else fails, you turn to manual mode to make things done. Strike Master Lazer can cut holes in ice ranging from 4 to 8 inches in diameter.
Since it's a hand auger, the manufacturer must make sure that it is easy to use and not bulky to the hands.
Fortunately, Lazer has soft rubber grips to simplify the hole drilling process.
They can be easily adjusted to suit your preferences. The two-piece handle can be adjusted between 48 and 57 inches.
The blades used to drill holes are a pair of chrome alloy stainless steel that are very sharp. They resist ice buildup well along with the powder-coated drill.
Strike Master Lazer is a handy backup to have with you because it can cut through a 15-inch of ice in about a minute. It has a torque of 200 RPM.
Though this ice auger had a lot of good points and considered as the best hand ice auger by various users, the blades come become dull after some time.
You may have to bring spare blades with you in every trip to ensure that the backup auger won't fail when you need it most.
Upon purchase, it also includes a blade cover.
PROS
Resist ice buildups
Soft rubber grips for ergonomics
Available in different sizes
Lightweight
Affordable
CONS
Blades can become dull
Requires physical work compared to other types
---
Background on Ice Fishing
Ice fishing has been around for many decades and is a great way for families to spend their winter season outside their homes.
Instead of boats, people build ice shacks for shelter from the cold wind while waiting for their prey to catch the baits.
Ice fishing is also a great way to form camaraderie with the other fishing-goers.
There are also special events held annually where people compete for the largest number of fishes caught and the biggest catch size.
Gear for ice fishing is specialized compared to traditional fishing gear. The ice auger, for instance, is the right equipment to drill holes through thick ice.
The hole you're going to make will depend on what fish you seek to catch. Common cold-water fish are: panfish, trout, walleye, etc.
Ice fishing is not always a safe sport or activity. Precautions must be followed as ice conditions aren't as anglers thought it would be.
The most reliable ice thickness should be at least 4 inches. Coordinate with your local government for information before you go ice fishing.
Surely, nobody would like to fall through the ice and be submerged into freezing cold water.
Best Ice Auger Buying Guide
To get a wonderful fishing experience, one must take all of the following considerations into mind.
1. Hand Versus Power Ice Augers
This is your first decision to make as a buyer. There are three types of augers used nowadays: hand ice auger, propane ice auger, and the electric ice augers.
The three of them have their pros and cons and it's up to you which would suit your situation best.
2. Blades
It's true for all ice auger types that without the best blade, the equipment is as good as decoration.
Blade size is an important thing to consider and would depend on the type and the target prey.
Most manufacturers have the blade sizes ranging from 6 inches to 10 inches. The larger blade size is recommended for larger species such as trout.
Blades can come in singles, doubles, or quadruples. It is common knowledge that the more blades there are, the faster the digging would be.
Furthermore, with the latest improvements in the special equipment, you can buy a combination of standard and serrated edges or just the serrated blades.
This type of blade is infamous in cutting as it gnaws away smaller sections, thus, digging holes much easier.
3. Weight
The weight of the auger you want to have must be something you can carry for extended periods of time.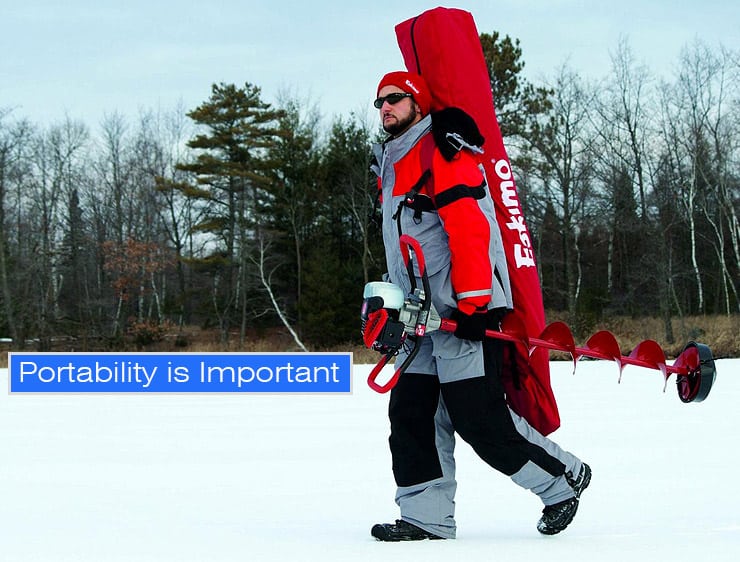 More than often, you will need to change locations to find where the fishes are hiding.
4. Other Accessories
Perhaps the most needed accessory for an ice auger is the blade cover. As blades are usually sharp, they must be covered for your safety.
Another accessory that you can buy is the auger hauler. It hauls the auger and has storage compartments you can use for spare parts.
It also protects the engine and a reliable thing to have when you're transporting the ice auger.
Conclusion
The best ice auger to have is something that is reliable and cuts through thick ice efficiently.
There are factors to consider when selecting the ice auger like the blade, type, etc.
By now, you have a general idea in your mind as to what's the best ice auger to buy.
The last thing that needs to be done is to purchase the best ice auger and enjoy your fishing during winter seasons!