How to endurance your time of training/workout or any outdoor activities?
Many have found hydration pack is a great solution. Since stay hydrated is one of the key elements to achieve the best performance in every workout activities.
Sound convinced yet? Read more below!
Choosing the right hydration pack is never easy especially there are dozens of them out there.
The more you seek to it, the more concerning about many questions in need of your answers:
Which factors you should consider?
How much water are recommended to carry?
How much space would want for other gears?
What kind of reservoirs do you fall in love?
Or even simply which hydration packs are specific to your training?
In short:
Which Are The Best Hydration Packs you Should Consider?
So, here come some kinds that you should take a look. For convenient, we have built a completed table, but if you insist on further detail, scroll down below.
Top 9 Best Hydration Packs on The Market
1

Nathan HPL 020 Vest – The Most Lightweight Hydration Pack
This beast is somewhat a short or long runners as well as hikers looking for.
It includes 2-liter water and could provide liquid for up to 3+ hours of exercise – depending on individual hydration needs.
It's made of 80% Nylon with 20% Polyester so pretty lightweight with the only 396gr in total.
One thing make Nathan HPL 020 Vest desirable is its 3-Way Propulsion Harness™ which move with your shoulders: Each shoulder strap moves independently.
However, one common problem many users facing is this hydration pack's bladder as it's leaky a bit.
It prevents pack from swaying or riding up, provides freedom of movement. These straps are a little wide but still lightweight and breathable.
One favorited thing about it is: easy to access most frequently use gears via the front pockets.
PROS
Lightweight
Provide liquid for up to 3+ hours training
Shoulder strap move independently
Breathable
Easy to access
---
2

Hydration Pack with 1.5 L Backpack Water Bladder – Best Hydration Pack for Everyone
For everyone: This is a cool stuff even with anyone who want to make it as a group/family "uniform" since it will fit well men, women, and kids with adjustable shoulder/chest straps.
The straps will be suitable for chests' sizes from teenagers (or kids) with 27″ up to adults (men and women) with 50″.
The chest straps might help to make sure it doesn't bounce up and down when you move.
For every activity: Though this back is recommended for running, but it's also been popularly used for biking and hiking as well.
Thanks to its good volume: it can cover just perfectly your clothes, iPad, phones, 11" -12" laptops and even a DRSL camera.
For even more storage, the side pockets also allow you to pack even more on your hike, mountain bike.
If you still concerned of what you need about a hydration pack, this could be good. But just in case you have your own requirements, try to explore further to make sure it fit you best.
For every weather: The main compartment is covered with Rip Stop Nylon material which serves two functions.
Firstly, it is water resistant, so your belongings stay dry in light or even medium rain.
Secondly, it is also durable reduces wear and torn-out, so your pack lasts longer.
For every change needed: the 500oz (nearly 1.5liters) is replaceable! It keeps the water quite cool but also includes a wide screw cap, so for your favorited, you can surely add ice cubes for a cooler drink.
One thing to note about this:
This pack was found extremely useful and recommended by lots of users.
By the way, it's also a paradox that if it's way too easy to meet many people' demands, it's not specific at all.
PROS
Good for all people
Suitable for chest size of all men
Good for running
Lot of extra storage
CONS
Somethings too perfect for all usually doesn't perfect for one
---
This one of the most favorited and popular within mountain bikers community.
With a 3 liters capacity reservoir made of 70D Diamond Clarus & 420 Nylon with DWR + 1000 mm PU, this hydration pack not only keeps you stay away from thirsty but also keep your back and gear stay dry.
Its belt is fixed at 20mm within 75inch cargo pocket.
Why are mountain biking and cycling people so in love with this CamelBak M.U.L.E?
Because it's designed to carry: stretch overflow helmet storage (yes!) and a bike tool organizer pocket (yes yes!) and also a removable rain cover.
It's not to tell the integrated helmet attachment clips work! Totally great for ditching the bike and going on foot for a while.
One small disadvantage is the small shoulder straps, and this could lead to some big people barely fits the pack.
The water bag compartment has an internal hanger for the water bag that keeps it fixed in place and upright during use.
The zipper on this compartment has a blue tether, so you know which one it is at a glance.
One more advantage is it contains lots of internal space for your other gears with other pockets also.
PROS
Made of 70D Diamond Clarus & 420 Nylon with DWR
Specifically for Mountaineer
Carry stretch overflow helmet storage
Has an internal hanger
CONS
Small shoulder straps
Barely fit big people
---
4

Osprey Packs Raptor 10 Hydration Pack – Best Bicycling Hydration Pack
Another cycling and mountain biking hydration pack that you could trust in.
You can feel its support to your body while riding through the rough and technical terrain.
This causes interesting to some for the first time using this Raptor.
It looks just like a standard pack, but the way it is sitting into the bodies and didn't move around much while wearing is significantly somewhat surprising.
The 3L reservoir was designed specifically with baffles helping to reduce liquid movement and stay stable even at high speed.
The hose is also must say a thing. It quite long but thanks to the routing down to shoulder straps which have been kept enclosed almost until the sternum strap.
Big fellas wouldn't like this product: it's too small for them. Another critical point is that it's somewhat leaky and moldy. Terrible!
Within 10liters of storage, this 3liters of reservoir bag is quite a good choice for those who would want to utilize the space for things like jackets, lunches, kneepads…etc.
It could be a thoughtful idea of this hydration pack's manufacturer to let the hose has an 180 degrees pivot on the mouthpiece.
It will cut it off from flow to provide additional security to the precious water supply. But it's quite unnecessary to left the valve open all the time.
PROS
Easy to fill in
Easy to clean
Lightweight and durability
Good choice for people who want to utilize storage space.
CONS
Tiny pack aren't for big people
Somewhat leaky
Mold haven
---
5

Osprey Packs Rev 1.5 Hydration Pack – Best Hydration Pack for Short Trail Running
If you are a shorter distance trail runs, this hydration pack is designed just for you!
And no worry, it's suitable for other running activities as well!
This beast is super light and streamlined.
The reservoir is only 1.5 liters – quite less rather than other product in the same lines, but this bladder has just enough water for an 8-10 mile run.
Furthermore, it's well-known by the special design of preventing water from sloshing around while you are crushing trail races – bouncing up and down.
Though, this is not so recommended since some found it's white tight for their full-pack gears. But to many runners out there, it cannot deny that Osprey is still a good one.
The backpack is fit and follows the moves avoid irritating jiggling and uncomfortable chafing.
Unlike others, Osprey Packs Rev 1.5 is designed to sit a little higher on the user's back and also excluded a hip belt because the shoulder already supports to carry the weight of the pack.
The front pockets have plenty of space for gel packet and a protein bar. The phone case also fit perfect, and it was easy to access when you had to check GPS quickly on the trail.
One more useful stuff is the compression straps on the back could hold a rain jacket and long sleeved shirt.
PROS
Best for short trail running
Super lightweight
Streamlined
Special design prevent water sloshing
CONS
White tight for full-pack gears
---
Only 350grams in weight, the Octane XCT hydration pack is a perfect choice for fast and light runners.
The waist belt also provides extra support and stability for movements.
Pockets with Zippered make it ease to access to essential gears inside the pack such as keys, gels, and maps… this product also has four exterior pockets and one interior pocket.
Many mountain biking was not favored this Camelbak due to its improper bladder which is too low, causing a lot of pressure on the back.
The new Crux design delivers 20% more water per sip, with an ergonomic handle for easier refilling, and an on/off lever that makes it easy to prevent leaks.
Quick-Link system is also a notable feature of the reservoir since it just needs one simple click-in connectivity allowing you to swap out tubes in case you need to.
PROS
Comfortable for walking, running, and hiking
Large side pocket
Stable
CONS
Not for mountain biking
Don't have zipped opening
---
7

Source Outdoor Dune 1.5L Trail Run Hydration Pack – Best Running Hydration Pack
Claimed to be the right pack for runners, the low-profile DUNE Trail Run Pack is designed to fit perfectly into runners' body natural movement.
Thanks to its unique 'X-fit' system unwrapping the body and the 'No Flap Straps' innovation adjusting system to avoid loose ends.
The Hip belt buckle was moved aside to prevent friction and discomfort. The hydration compartment is now zippered and easier.
This hydration pack is featured its internal multi-pockets and the ability to access quickly the hip pockets, elastic mesh compartments for extra cargo, LED tab holder and external clasp for walking poles or dedicated equipment, insulated reservoir compartment and back panel, and reflective straps.
Some customers report their back get light rub mark and side similar to burn. Also, the side pouches are hard to reach while running.
Let talk a bit about manufacturer: Source has been known as a groundbreaker in hydration system technology.
They are also well known for their tactical gears and hiking sandals.
Tested in the most extreme conditions, hundreds of thousands of Source Hydration systems are in use in the field.
PROS
Come from source – the groundbreaker in hydration system technology
Unique X-fit style that is unwrapping the body
No flap straps innovation adjusting system
Zipped hydration compartment
CONS
Beware of light rub mark and sideburn
---
How about women's?
Which ones are the most favorited of those "iron-women" out there?
I DO believe Nathan Intensity Race Vest is one of choice (It is also my most lovable of many girls who are doing training around me!).
Since you might notice, yes, Nathan have three products in particulars.
Nathan HPL No.20 – bladder 2L – But it's not so friendly with the female body. This type is quite pricey as well.
Nathan Minimist – 2L bladder too – But the cons is it has limited additional pockets.
Nathan Intensity – 2L Bladder and LOADs of additional pockets for storage.
Seem like Nathan Intensity is designed with a deep insight about women's demand.
Since they would want to carry a lot of small stuff rather than men and also, if they have family who is also hiking or running, they even need more storage.
Some cons you might know before decide to get one:
What the instruction belongs to the product is not quite clear. Yes, it quite surprises!
For this such an amount to spend to a hydration vest but the basic questions "how to use the bladder" or "how to unhook the tube"… would not be found. You have to look it up by yourself.​
Another (might cause annoying to anyone with taste-sensitivity) is for the first slurps of every use, the tastes of water/juice would be quite unpleasant, especially the case of the first time. But it would be gone soon and everything back to normal pretty quickly.​
Besides the reason about "fashionable" and "quite a foxy one," there has a lot to tell about Nathan Intensity: no water leakage, nothing chafed, nothing hurts, not to budge (like "you can run, you can dance, you can jiggle in the sun")…
PROS
Suitable for woman
Various kinds
Carry a lot of stuff than men
Foxy & sporty design
CONS
Confused manuals instruction
---
9

Camelbak HydroBak 50 oz Hydration Pack – Best Hydration Pack for Long Distance Running
This hydration pack is the best buddy for those long in long distance running. It weights in equivalent to 160grams.
Hydration packs size is 50oz, around 1.5liters and total sizes are 6.5-inches by 11.5 inches by 0.25 inches.
Productive features of the Antidote Reservoir: quick-seal cap, wide amount opening make it easier to clean the bottle after training, easy access to drinking water with Patented Valve…​
One quite an issue: Many users found the straps and stitching materials of Camelbak are much rougher than another same type of hydration packs.
The nylon duffel bag may help to increase the product's durability, but it's way too rougher for the user than the smoother material.
If you prefer one without chest straps, so Camelbak HydroBak is quite a choice. Even no chest straps, it still provides a secure and comfortable fit.
PROS
Lightweight and carry a significant volume of water (about 1.5 liters).
Furthermore, this pack also offer front pocket which allows you to carry other necessities like keys, phone, wallet… in a convenient way.
CONS
Carrying capacity of this hydration pack is quite small. It is not suitable if you are planning a long trip with many partaking.
---
What is a Hydration Pack?
A hydration pack is precisely a backpack designed to hold a reservoir full of water and included a hose that you can take water directly without disrupting your running, riding or whatever activities you are doing.
This is what makes it needed over a bottle of water.
Furthermore, an easier water supply could also benefit to better hydration – you drink more and drink consistently (rather than you have to wait to a limit of thirst then stop and drink!)
Some basic requirements you need to note when looking for your first (or twentieth) hydration packs:
Water Capacity
The size of the reservoir is pretty much depending on which kind of activities you are training.
Well, keep in mind that size of tank and size of the packs are two different things. Some have the same size of the pool but differentiate in storage size.
Don't worry, the lower part of this post will show you the details.
Storage Capacity
Some hydration packs are minuscule and designed just-loads-enough while some are more suitable for 2,3 days backpacking hiking trips.
Fit
Although hydration packs don't have sizing levels of S, M, L, XL like clothing, there are many ways to pick a hydration pack that will suit your bag size.
Straps, waist straps, and back length differ depending on the size and volume of the pack, and while all packs can be adjusted, so they can be made to fit almost all wearer, a smaller rider will be more comfortable with a small bag.
In our category, we have unisex packs, female specific packs and kid's hydration packs
Tube Compatibility
This is one general thing you should look after carefully. Make sure you choose the compatible quick-release tube attachments.
Ease of Cleaning
Hydration packs, is not something used one-time only but needed to be cleaned eventually. Especially, you might (Really) need to sugar/electrolyte powder to your water.
There are two parts that you need to clean: the bladder and the hose.
The hardest bladders to clean are kinds that you can't easily put a brush into and have multiple components (for example waist belt hydration bladders).
These require more brushing effort and usually involve many rounds of warm water flushing with bacteria-killing additive and then more flushing to clean out that additive itself.
Using Under Different kinds of Weather
Like any other outdoor gears, hydration packs are also under the impact of weather condition.
Make sure it could be used properly in winter, or under hot weather, if you plan a trip in the high-temperature area.
A hydration pack is truly a must-have item for anyone who wants to push themselves to their physical boundaries.
Types of A Hydration Packs.
Typical hydration packs classification is based on its specific activities serving – which is well-known as an essential feature impacting to all other aspects.
Hydration Packs for Running
There is an ordinary mix-up about running backpacks and hydration pack.
Though both are lightweights, excellent comfort and fit, one thing hydration backpacks differentiate from running pack is their primary purpose of feeding water to the runner.
Here are some questions you might need to answer to choose a hydration running pack:
What Kind of Runners Are You?
A casual runner who hits the road for a few miles each day?
Or a trail runner/racer who typically reach to 10 miles a day?
Or even an ultra-runner who loves to push yourself to the limit, the very first filter you would put to the beginning of the funnel to narrow down the hydration packs you might choose is waist-pack-lightweight type!
What is Your Natural Demand of Water?
The reservoir size is the second priority in a runner list. Scientifically, a runner would consume approximately 1 liter for every hour of running.
Base on a variety of running type and natural disposition, there are four commons reservoir volumes: 1 liter, 1.5 liters, 2 liters and 3 liters.
How Much You Like The Cool Factors?
Check other miscellaneous components. Unlike other activities (hiking, biking…) your wearing parts will bounce up and down – like, a lot. Other components like:
Sip tubes – Make sure you get an incredibly durable one, not easy to be torn out.
Bite valves – Highly recommended if you have a flexible budget, try to get one hydration pack with a twist on/off or have an on/off switch bite valves. They should be the types that you can clip to a shoulder strap or jacket.
In overall, those factors would give you an idea about which hydration pack is the one since the short distance runners have different concerns versus the long distance one.
And even the long-distance runners also classify into the type of short trip (one-day) or (long trip) with the different personal demand of necessities they would want to carry.
---
Hydration Packs for Hiking
Hiking is quite similar to mountain biking as your adventure could be overnight or be a one-day trip.
This length condition is a key impact while choosing a suitable hydration pack.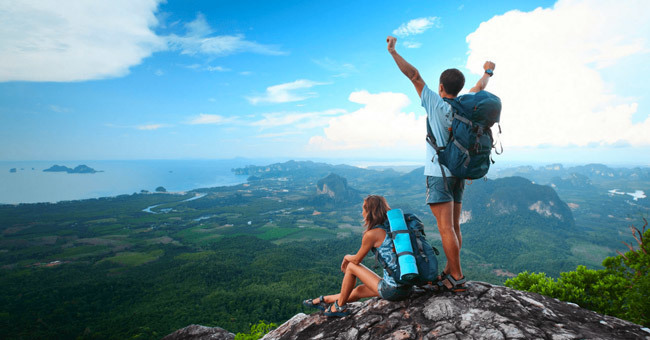 As a result, the largest hydration hiking packs offer approximately 2,500 cubic inches (around 41L) of cargo room and also offer comfort and load support features to perform well on light-and-fast overnight journeys.
For multi-day hikes, the volumes of backpack could reach to a higher capacity (from 41 up to 70+ liters).
In average, other hydration hiking/climbing packs are in the 1,800 cubic inches (a round 29L) range which help you be well-equipped on all-day activities.
At the end of the day (or the hike, if you just join 1-day journey) you would be tired.
However, having a backpack designed with specific "support" will make carrying a loaded bag for hours much more comfortable.
It's wise to look for a padded shoulder strap backpack.
Depending on how much weight you plan on carrying, you may also want a hydration pack with some add-on kinds of stuff like a sternum strap and waist belt to help you wear the load.
---
Hydration Packs for Mountain Biking
Base on the most popular choices of mountain bikers, it's quite easy to recognize that water capacity is not the "first and only" important factor while making the decision.
Mountain bikers care much about space inside the packs. They often choose a larger pack with ample cargo capacity and 2L to 3L reservoir.
Storage space (excluded reservoir!) is highly variable. They range from barely enough room for just a phone or keys to a full-size backpack that can hold everything – from camping gear to camera equipment.
Those make hydration packs are the hardest ones to choose, and normally people fell in somewhere in the middle by combining a "traveling backpack" and "a pack holding plenty of water" at the same time. Remember these three key things:
Storage
How long your biking adventure would take place?
Which are the must-have items you need (not "want!") to carry?
Could your camera be smaller?
If the photography is also the second purpose when doing mountain biking and you want to bring a functional camera and multiple lenses along with you while riding, you may want to seek for a backpack specifically designed to carry photography equipment.
Reservoir
Though caring much about storage, mountain biking hydration packs are a little smaller than other types.
With cargo space ranging from 23Liters (enough for all-day rides) to 3L (which is enough space to carry a spare tube, wallet and an energy bar).
Fit
just like other types of hydration backpack for running and hiking, mountain biking specific ones also need to be adjusted by its fit.
Your pack will need to be comfortable while doing a good job of staying put when you are on the rough and challenging trails.
Although there are many great designs out there, it's especially recommended to look for these components: side compression, waistbelt, shoulder paddings, molded back panel and make sure it's not too heavy.
Those small components will all make your ride comfortable and keep your backpack stable.
How to Use a Hydration Pack Right in Its Way?
Though there are a dozen types of them out there which needed you to read through the manual guideline before usage, there still has some basic steps you could read on below for reference:
Fill the Bladder
Most common way is unzipped the pack and fill the water in. Still, some manufacturers use a screw one for a water bladder.
It's common advice as you should use cooler water when the weather is hot and warmer water vice versa.
Wash The Pack Inside-out After and Before Use.
Always wash the hydration packs after and before use by warm water, a little shaking through and then empty it.
Make sure water could run down through the hose and out of the mouthpiece accordingly.
Strap The Bladder
Once the water bladder has been filled, replace it within the hydration pack. Make sure you zip it tightly.
Place your left and right hand through the left-side and right-sight strap.
Clean The Bladder
If you use electrolyte/sugar mixes within your hydration packs, choose the packs that allow you to put a brush inside the bladder.
Normally, you still can handle it with warm water or some mixture of hot water and antibacterial powder additive which help to scrub away.
After cleaning the inside, try to open it up and hang upside down in a few hours so all the excess liquid could drain out (keep the manufacturer directions in mind so you could conduct the cleaning in an optimal way).
Clean The Hose
Particularly, most current hydration packs in the market offer a specially-designed hose cleaning kit (as an extra spend, not included with the pack) to urge and help you clean the hose regularly.
You'll probably need to scrub the inside of the tube with an elongated brush (similar to a pipe cleaner) and a mixture of warm, soapy water.
Insulate your hose during winter use – in low temperatures (below freezing), your water might freeze in the hose.
Many manufacturers sell specially designed insulation sleeves for the hoses, but here are some tips to prevent water from freezing:
Cut long tube socks into a functional insulation sleeve for your hydration pack's tube.
When the temperature is at freezing level, blow the water back into the bladder after drinking. (Only works with non-pressurized hoses, of course.)
Some care tips if your case gets even worse.
After the reservoir is clean, let it soak overnight with hot water in it.
If your valve is super dirty and you want to dry it out, you can leave a toothpick in there while it's drying to increase airflow.
Dismantle the pieces of your bladder and put them in the dishwasher. Yes, you can.
Avoid to put sports drink in there, or if you have to, go with sugar-free versions. This practical could keep your pack buddy away from the mold.
Some, I know there are some, absolutely need to drink alcohol from a hydration pack and I do know that It's notoriously hard to get the taste of tequila or whiskey out, But, please, buy a separate bladder to dedicate solely to that purpose.
The most important thing you can do is to make prompt hydration pack cleaning a habit after every workout/trip/ride.
EVERY.SINGLE.ONE. (Despite the fact that many could also suggest it the bladder always carrying waters, you could clean it up some days or a week later)
And if you see visible mold that can't be scrubbed out? Cut your losses and get yourself a new hydration bladder.
Last Wise Words…
There are many hydration packs serves many purposes. As you can see from my review, each product has its benefit and disadvantages.
So the best thing to learn is choosing what work best for you. Many hydration packs are also beyond that with some special separate compartments.
Try one, and your next outdoor adventures will never be the same.