There are instances that animals such as birds and small mammals could be nuisances especially if they start to act like pests in our backyards. If you let them become rampant in your area, they could destroy your vegetation or consume your livestock.
Things would then spiral out of control. The other way around is to decrease their destructive ability by eradicating them from your territory.
This safety measure is called pest control or varmint hunting. To effectively do that, you will have to invest to the best varmint rifle you can find in this article.
Varmint hunting is the term used when hunting animals that can threaten your crops and livestock. It is different from regular hunting as you have no need for their flesh as food.
There are different categories to classify as a varmint. The basic requirement to be considered as a pest is the capacity to destroy. Small to medium sized mammals are capable of that as well as a flock of birds.
Predators like coyotes, foxes, raccoons, badgers, snakes, wolves, and cougars are to be considered varmint as they are known to kill animals (that you own) for food. Rodents (rats & beavers), rabbits, squirrels, pigeons, and crows are known to eat off plants and crops.
What is Varmint Rifle?
The hunter who hunts varmint is called varminter and for him to be effective he should have a rifle that specializes in killing pests.
A varmint rifle is what it's called as the primary weapon to eliminate them. It is a small-caliber firearm or an airgun with high firepower. In this article, the air rifles are to be the focal point.
Varmint rifles may be underpowered compared to game rifles, but you don't actually need larger calibers or greater power to kill small animals. Using lower caliber is cost-effective and travel fast in mid-air.
Varmints are known to move rapidly when they sense danger so there won't be a problem using varmint rifles. A typical varmint rifle is capable of delivering fast shots faster than 1000 feet per second.
Your bullets have little chances of straying away from the target because the rifle is up for a flat trajectory. In short, a varmint rifle's basic requirements are reaching long distances and higher velocities.
Top 5 Best Varmint Rifle Reviews
The following air rifles have shown exceptional stats and can prove themselves when used in varmint hunting. We'll see what makes them amazing with our review.
Gamo is a brand from Spain known for manufacturing quality rifles. This particular model of Gamo is suitable for hunting varmint as it has enough power and accuracy to hit the target thanks to the 4×32 scope with a ring.
This one is a spring piston type, capable of delivering pellets in astonishing high speeds of up to 1200 feet per second. Furthermore, the 18-inch barrel made of steel can shoot any 0.177-caliber pellets.
The way to reload this one is by 'breaking' the barrel; this means that you bend the barrel 90 degrees downward to put ammunition and push it upward to lock it again.
Gamo Varmint air rifle has a length of 43.3 inches and weighs 6.1 lbs. The material used for the rifle can survive any environment as it is made of robust plastic.
---
This model starts the streak of Benjamin air rifles on our list, and they are all proudly from the USA. Benjamin Prowler is a nitro piston rifle that can fire .177-caliber shots quietly without alerting the target.
As a nitrogen piston, the rifle will have lesser recoil so it won't be hard to shoot and aim. It also lasts longer than spring piston rifles, because with the latter, velocity gradually decreases due to the fatigue to the rifle.
Furthermore, nitro piston rifle is capable of reaching high velocities as much as 1200 feet per second with light pellets like alloy. What makes it distinguished are the two-stage adjustable trigger and 18 FPE. With that much FPE, you don't have any problems in dealing fatal damage to the varmint.
The 4×32 scope allows you to see the varmint at a closer sight and, of course, improves your overall accuracy too. The air gun is also lightweight at 6.4 lbs. and durable because of all-weather synthetic stock material.
---
This particular model named Benjamin 392 has plenty to offer when it comes to power and accuracy. Why? This multi-pump PCP rifle is capable of shooting .22-caliber lead pellets traveling at 685 feet per second while pellets made of an alloy can go faster at 800 feet per second.
Considering the speed and weight, the FPE averages at 14.9. It proves that the Benjamin 392 can kill off varmint be it small or as big as foxes and raccoons.
This model uses compressed air, so you don't have to suffer from the recoil induced spring piston rifles. In turn, it leads to a flatter trajectory and minimal chances of stray shots.
Weighing at 5 lbs., and length of the 37-inch barrel, it is compact and won't cause strain.
---
Benjamin Marauder is another PCP rifle featured in this article. It is different from the other rifles mentioned earlier because its stock is made of hardwood instead of the usual hard synthetic.
The stock features a Monte Carlo style and can cater both left and right-handed people. Moreover, Benjamin Marauder is somewhat reserved only for the elite as the price gets higher for every type of caliber.
This rifle has different guns for different calibers such as 0.177, 0.22, and 0.25.
Benjamin Marauder is a favorite for most varmint hunters because the speed of the pellet can travel as fast as 1100 feet per second. Not only that, the choked and shrouded barrel helps improve accuracy and resonance dampening.
Most hunters have testified that Marauder or M-Rod is one of the quietest air rifles they've ever used.
The killing power of this air rifle is no joke as the 0.177 caliber has 21 FPE, 0.22 caliber has 32 FPE, and the 0.25 caliber has a tremendous FPE of 50!
The largest caliber is plenty enough to take on larger varmints like coyotes and foxes. As for shooting, it has a 10-round magazine and so you have a longer time until reloading.
---
Last but not the least is the Benjamin Trail; a nitro piston break barrel air rifle capable of shooting 0.22-caliber pellets. It can reach great distances of up to 1200 feet per second.
This model is an upgrade to its predecessor of the same name, but it's the second version. This means that two-stage trigger, reduced cocking effort, and the noise suppression are all enhanced for greater varmint hunting experience.
Aside from those, this upgrade has become 15% faster and delivers more power with every shot.
Its synthetic stock can withstand any weather without the camo paint fading. The 3-9×32 scope is perfectly capable of targeting faraway varmint with utmost ease.
The FPE of 26 is plenty enough to deal lethal damage to those critters that are invading your territory.
---
Best Varmint Rifle Buying Guide
In buying, some factors must be taken into consideration so that you end up buying the best product that satisfies your needs and preferences. For varmint rifles, the following are the top factors:
1. Power
Of course, for a gun, power is one of the most important things to look for. The rifle should be able to provide enough or high power that can penetrate the target enough to render it lifeless.
In indicating how powerful the rifle can be, it's not recommended to look at its speed found on the rifle's box.
The speed rate can easily be manipulated with the choice of the caliber. So, this leaves us the FPE or foot-pounds of energy to decide.
On the subject of FPE, the speed and the weight of the bullet are the ones that decide on how hard it will hit the varmint.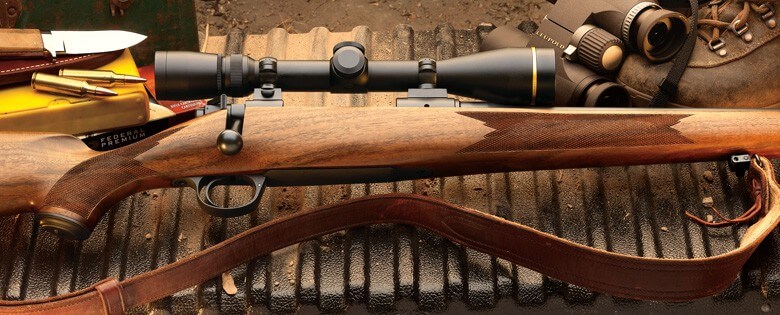 2. Accuracy
Given your targets to be small in size and found at longer distances, accuracy is more important than ever. Accuracy is important in two ways.
First is that you need to hit the small part of its body for a humane kill. Second is that you don't want to scare off other varmints that they end up running away.
It's temporarily good if they're gone but they would come back soon enough to trouble you again. Better decrease their numbers than let them become merrier with more numbers.
3. Ease of Use
For air rifles, there are four main types that varminters use. They are spring piston, Pre-charged Pneumatic, gas piston air, and CO2-powered air rifles.
There is a strong recoil for every shot when you use the first type; meaning, the rifle could be noisy and cumbersome for varmint hunting. However, they are durable and relatively cheap to buy.
As for Pre-charged Pneumatic rifles or PCP, accuracy and silent shots are guaranteed. But they could be inconvenient when reloading and they are priced higher than spring piston rifles.
The gas piston air rifle uses nitrogen gas to pump the pellets out. It offers noise reduction and has lesser torque than spring piston rifles.
Also, it's simpler to cock and can deliver high power. For the last type, it uses CO2 and capable of firing pellets semi-automatically. It is easy to operate, and you can fire multiple shots with just one cartridge.
Know Your Caliber
Choosing the caliber for your rifle is the next big thing after the rifle itself. The most widely used calibers are either .177, .20 or .22. A .177-caliber rifle is the smallest out of the calibers mentioned and the cheapest.
Because of the small diameter, it is capable of traveling at higher speeds than the other calibers with a greater accuracy.
This type of caliber is perfect for small animals like birds, rabbits, etc. However, using it to larger varmints like raccoons and foxes won't be humane. Sure, they will die, but they would have to suffer first.
A .20 caliber is a better caliber than .177 as it has 40% more knockdown power and a flatter trajectory. It is quite capable of taking out small to medium size varmint. Then the .22 caliber is the best out of the mentioned calibers as it has more knockdown power.
As it's heavier and larger, it possesses a more destructive power to the internal organs of the animal. The drawback for this caliber is that it covers distances that are shorter than .177 or .20 calibers.
The reason that larger calibers are not preferred aside from the cost is that they burn too much powder. A varmint rifle's recoil should be light because of the shots that are to be taken to eliminate the varmint.
This results in the heating of the barrel and may cause the greater amount of powder of higher calibers to burn up.
Other Accessories
For a varmint rifle to be the best in user experience and accuracy, it is recommended to install accessories that can improve your rifle's stats to a notch higher. With the right add-ons, you can hunt varmint at night and see them clearly even if you're far away.
One of the things you need is a scope. A scope allows you to kill the target easily as some scopes have laser points that can reach several meters up ahead and some have the illumination that can make you see varmint at low light or dark places.
Next thing is a silencer. With a silencer, you can kill more varmints as they won't hear the shot going off. This allows you to kill more pests though the drawback would be slower shots.
Shoot rest is optional but could be beneficial especially if you're waiting for varmint to appear in your territory. This helps lessen the strain due to the weight of the gun.
Verdict
Benjamin Prowler NP Air Rifle and Benjamin Marauder PCP Air Rifle had a close fight. Though they are of different types as air rifles, both are capable of sending pellets at tremendous speed and power. Both are comfortable ergonomically and provide a good balance.
However, looking at their stats at 0.177 caliber, the Benjamin Prowler is capable of sending shots at a velocity of 1200 feet per second.
As for the Benjamin Marauder, pellets could travel at 1100. And then, considering the FPE, the former has the killing power of 18, but then the M-Rod beat it at 21.
Summing up this information, we can find the Benjamin Marauder to be the best varmint rifle. That's because power exceeds speed when it comes to how hard the impact to the varmint would be.
The third rank goes to Benjamin Trail Nitro Piston 2 Air Rifle. Observing the rifle's speed closely, it could support 1200 feet per second at a large caliber of 0.22. Even Marauder's 0.22-caliber version could only travel up to 1100 feet per second.
The rank two – Benjamin Prowler has the same speed with Benjamin Trail at 1200 feet per second, with the former having the lower caliber of 0.177. Looking at the FPE, the third best rifle has high power at 26. Comparing with Marauder of the same caliber, it has Benjamin Trail beaten with an FPE of 32.
Benjamin 392 Bolt Action takes the fourth place. The speed and power being the primary considerations, we also shouldn't forget what air rifle type it is. Since it's a PCP rifle, it's quieter than spring piston rifles.
At 0.22 caliber, its FPE and speed are lower than the other previous air rifles listed. Pellets can only travel up to 800 feet per second, and the FPE is at 14.9. But these are plenty enough to take on varmint with pinpointed accuracy.
The last place goes to Gamo Varmint Air Rifle. Why last despite having the speed of 1200 feet per second? It's because it's a spring piston rifle type. Since you cock or bend the rifle as you reload it, it could be very noisy and tend to alert target beforehand.
Also, because the spring inside that pumps the pellet out might cause kickback, the accuracy as the pellet travels could be mainly affected.