Owning a competent weapon such as the Glock 19 also requires you to possess a holster, which is just as competent.
Fortunately, you can now find several holsters that you can expect to perform a more efficient job than the others – one of which is the IWB or the Inside the Waistband Holster.
Many prefer this holster because it is an effective solution when planning to ensure a more concealed carry. Your goal, in this case, should be concealment.
The IWB holster is one, which you can conveniently place inside your pants' waistband. You can put it in an area, which can make you feel comfortable.
Some people prefer carrying their IWB holsters behind their hips, but it is a matter of preference.
Top 7 Best IWB Holster For Glock 19
In your search for the best IWB holster for Glock 19, it is crucial that you put a lot of consideration on your level of comfort.
Note that at the start of using your new holster, you may experience some discomfort. The good news is that after breaking it in, the fit will most likely be better.
To make the selection process easier for you, we gathered seven of the most reliable IWB holsters mainly designed for Glock 19:
1

Galco KT224B Kingtuk Inside the Waistband (IWB) Holster -The Best Choice for the Budget-Conscious
Galco KT224B Kingtuk IWB Holster is a suitable choice for anyone searching for a fully functional IWB holster.
It provides you with two popular styles – the pancake and the Kydex – both of which you can conceal completely.
It has an excellent construction – with its backing plate cut from a saddle leather known for its quality.
The front, on the other hand, is based on Napa leather, a smooth and soft full-grain leather treating using a unique process then dyed with utmost care.
This process turns the Kingtuk from Galco into a superior wearable leather.
The problem with this IWB holster though is that the plastic mold holding the gun is incapable of covering the trigger completely. You'll still see traces of its back even if you fully insert the gun. While this issue can't make you feel unsafe, many still expect full covering of the trigger.
Another flaw is the inability of the belt clips to provide enough room so you can tuck it under your shirt.
Those are just minor issues, though, compared to the quality of the holster and the many things it can do. It's a comfortable holster with its lined and soft leather backing.
That said, you don't need to worry about it rubbing or scraping your skin. The material is also sturdy enough so that it won't wear out that fast.
The holster also has a large footprint and can conform to your body nicely.
PROS
Comfortable enough to wear – has a snug fit and conforms to the wearer's body
Promotes full concealment
Exceptional construction
Made of sturdy and long-lasting leather
Has a soft leather backing, minimizing the risk of rubs or scrapes on your skin
CONS
Plastic mold, which aims to hold the gun, can't seem to cover the trigger completely
Less room for the belt clips to work in tucking the gun under your shirt
---
2

Relentless Tactical The Defender Leather IWB Holster – A More Minimalistic Holster
Are you in search for an IWB holster with a more minimalist design?
Then the Defender leather IWB holster from Relentless Tactical could be a perfect choice.
Entirely made of leather, this holster combines classic American craftsmanship, comfort, durability and function.
You can expect this holster to last while being form-fitting, comfortable and offering maximum protection.
It provides optimum concealment while making it easier for you to access it when necessary.
There are few issues with the Defender holster from Relentless Tactical, though.
One is that there is a need for a strap to prevent the gun from falling out when taking off your pants. Some also complained about the tightness of the leather, making it harder to get their gun in properly.
However, note that this tightness issue could be because it needs some time to break in.
Another potential concern is the tendency of your gun's finish to rub off with constant use and time.
Still, you still have higher chances of getting pleased with your purchase of this holster as it has plenty of features and benefits.
It utilizes a single wide metal clip primarily designed to keep the holster secure in your belt and pants.
Furthermore, you can choose to wear it in three positions – the appendix, which is the most popular one, the cross draw and the strong side carry.
The holster features an open top design, making it faster and easier to draw.
PROS
Made of genuine and durable leather – does not come with any cheap or synthetic materials
Quick and easy access
Provides maximum comfort
Sturdy and dependable
Guarantees better concealment
CONS
Needs a bit of time to break in, so the leather won't be too tight
Requires a strap
Tends to rub off your gun's finish with time and constant use
---
3

CYA Supply Co. IWB Holster – An Efficient Solution for Concealed Carry
Made of superior materials, you can expect this IWB holster from CYA Supply Co. to be capable of delivering what it promises.
It mainly uses Boltaron for the holster, which promotes a high level of impact as well as temperature resistance.
Designed in such a way that you can wear it inside your waistband, it provides a highly efficient solution for concealed carry.
The fact that the manufacturer takes friction and wear points out of this IWB holster also means that it can perform efficiently while also having the ability to last long.
One problem with this IWB holster from CYA Supply Co., though, is that its inner screws are not recessed far enough. Another issue is the mag release, which tends to get often hit when you unholster it. The clip height is not also adjustable. It would have been better if you can adjust it, so you can move it higher based on what is comfortable for you.
Despite those flaws, you will still find this holster a good investment.
With its main construction based on Boltaron, this holster is stronger than the others when you consider its impact resistance and hardness.
It can also resist both harsh chemicals and scratches. The use of this holster promotes low friction when drawing and re-holstering.
PROS
Fits nicely
​Allows you to make adjustments – from loose fittings to making it tighter based on your preference
​Has smooth and rounded edges
​Features a belt clip, which grabs into your gun belt securely
Made of lightweight material, making it more comfortable to wear
CONS
Inner screws not recessed well and far enough
​Issues related to the mag release
Clip height is not adjustable
---
Another holster that many consider as the best IWB holster for Glock 19 is the one made from Gearcraft.
It is mainly based on the deep concealment customized IWB Kydex. It is comfortable enough plus has several features and benefits that both professionals and enthusiasts love and appreciate.
One thing that you'll enjoy about this holster is the fact that it offers protection from accidental fire. It does so with its ability to cover the trigger.
Constructed out of .080 Kydex material, you have a guarantee that it is wearable in various situations.
One problem with this IWB holster from Gearcraft is that it has a clip, which is quite bulky. While this is not too bad of an issue, it would have been better and more comfortable to use if it is slimmer than its actual size.
Fortunately, you have the option to replace the belt clips.
Also, the opening when you try to holster the gun is a lot tighter than the other brands in the market. There are also noticeable rough inner edges.
Still, there is a chance that you'll be more than satisfied if you purchase this IWB holster.
It features an adjustable cant, which lets you choose between traditional and appendix carry positions.
You can make the necessary adjustments just by loosening the screws that you can easily locate on the clip. You can then slide the clip based on your preferred position.
Furthermore, you will notice that it comes with adjustable tension, which promotes a more snug fit.
PROS
​It helps your weapon feel lighter once you clip it to the belt.
​Has a wide clip, which can evenly distribute the weight
​Flexible and durable leather
​Easy and quick to adjust and screw
Stable retention
CONS
​Clip is a bit bulky
​Opening is tighter than other brands
Some rough inner edges
---
5

G&G Inside Trouser Holster – B890 – Holster for Subtle Concealment
G&G Inside Trouser Holster – B890 is a good holster if you're looking for one, which promotes subtle concealment within the waistband.
Constructed from compact and well-molded leather, this holster can provide a more secure and snug fit around your firearm.
Aside from being both durable and sturdy, you can also expect it to be more than capable of holding onto the metal clip well.
This fits bands or belts that are around 1.75 inches. It guarantees an easier and more discreet concealment.
There are few flaws in the holster, though. One is that it takes quite some time to break in. It also comes with a trigger guard, which does not provide full coverage. Furthermore, it's a bit bulkier than other holsters on the market.
The good thing is that once the break-in period is over, it will turn into a reliable holster that you can wear comfortably. It guarantees a comfortable fit and showcases a handsome cut.
The leather used in constructing it is high-quality. Moreover, it boasts of an impressive dye work – with its deep and rich black color.
It can perfectly grip your Glock 19 and promotes a solid and quick draw.
PROS
Guarantees a subtle and more discreet concealment
Durable and tough
Securely and snugly fits your firearm
Amazing dye work
Speedy and stable draw
CONS
Bulkier than other IWB holsters
Long break-in period
Trigger guard does not provide full coverage
---
6

OUTBAGS LOB2S-G19 Leather IWB Holster
Constructed out of genuine leather, you will never regret investing in this IWB holster as you have an assurance that it is of top-notch quality.
It has a single retaining clip designed to fasten it to your belt. Primarily built for your Glock 19, you will no longer have to worry about how to secure your weapon.
Also, it is hand-dyed, which is a good thing because it works in preserving the characteristics of natural leather.
Furthermore, it boasts of a clear protective coat, plus guarantees to be a hardened and cured holster designed to retain its custom shape.
One thing that you may not like too much about the product is that the leather used in making it is too thick and stiff during the first few uses. This means that it takes some time for you to break it in. The design is also a bit subpar.
For instance, it has a single-stitched leather plus the glue used in putting the leather together is too noticeable on the edges. It also has a trigger guard, which is too open.
Still, the quality of this IWB holster from OUTBAGS is unquestionable.
It is already a perfect choice if what you are looking for is a comfortable IWB holster, which can conceal and secure your weapon.
PROS
Made of genuine, top quality and durable leather
Secures your Glock 19
Preserves the qualities of natural leather
Has a clear protective coat
Comfortable enough to use and wear
CONS
Leather is too thick and stiff at first, causing the need for a break-in period
Some design issues
Trigger guard is too open
---
This IWB holster from Blade-Tech Industries comes with an ultra-thin design, which is an advantage if you want to make use of a holster that is extremely comfortable.
It mainly features a positive lock trigger design, which is a huge help in administering an audible click, indicating the fully seated firearm.
It has an appendix clip attachment designed to fit 1.75-inch belts.
Still, you will never go wrong if you decide to choose this holster. It is reliable, long-lasting and can already provide your desired level of comfort and concealment.
One problem with this IWB holster is that it is quite hard to take your firearm out of the first few uses.
But as soon as you get used to the holster, taking it out will be a breeze. It also tends to trigger a bad release as its lightweight polymer molded to keep the weapon attached to the waistband is too form-fitting.
That said, there is a need for you to pull too much for a proper release.
PROS
​Fits perfectly and comes with a solid lock-in
​Secure retention
​​Has a positive lock trigger design
​Promotes all-day comfort
Long-lasting
CONS
​Bad release because the molded polymer is too form-fitting
Quite hard to take your weapon out initially
---
How to Find the Best IWB Holster for Glock 19?
If you want to have an easier time locating the best IWB holster designed to secure your Glock 19, then consider the following factors:
1. Concealment
Note that this factor is the major goal of most gun holsters. That said, it is advisable to go for one, which does not protrude your waistband.
It should be capable of concealing your weapon well to prevent anyone from stealing it from you.
It should also hide your weapon to avoid dealing with the awkward and uncomfortable probing coming from the local authorities.
2. Comfort
Of course, you also need to look for the most comfortable holster in the market. It should allow you to position it inside your waistband based on your preference without causing you any form of discomfort.
3. Overall size
You can choose larger two clip holsters or the smaller ones for your Glock 19.
Note, as well, that while the smaller options are more versatile than the larger ones, you can't also expect them to be more comfortable.
4. Gun retention
Such factor indicates how effective the holster is in holding your Glock 19 in place. It should be one of your main considerations as it ensures that your Glock 19 is secure.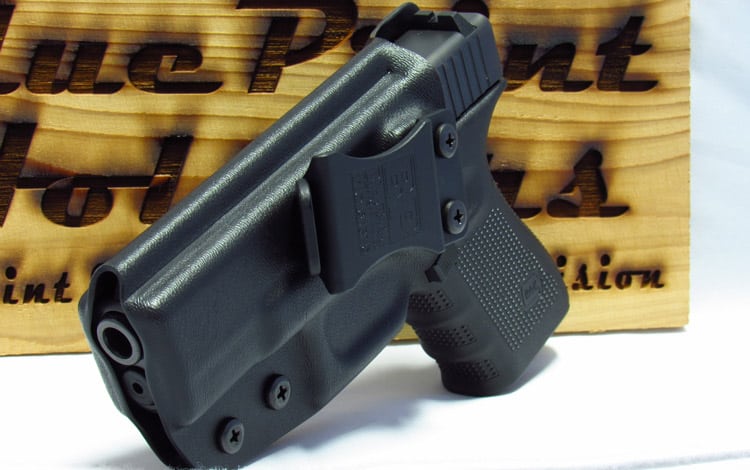 5. Skin contact
Your chosen holster shouldn't be too uncomfortable for you when it comes in contact with your skin.
You can find holsters that feature a sweat shield designed to protect your skin completely from being in contact with your firearm.
6. Accessibility
You need to consider this factor as you need a holster, which allows you to effortlessly draw out your gun in those situations that require quick hesitations and high level of awareness.
It should make it easier for you to do unassisted re-holstering and one-hand draws.
Conclusion
Other factors that you have to keep in mind in your search for the best holster for your Glock 19 are fit, ride height, form factor, mouth reinforcement and warranty.
By considering all the mentioned factors, getting a hold of an IWB holster, which can perfectly secure your Glock 19 is possible.