How can you shoot without aiming?
Similarly, how can you become better at shooting if you don't have the right or at least the proper aiming sight, right?
Acquiring a good holographic sight not only helps you reduce the disadvantage of red dot sight but also boosts your shooting accuracy at a longer range.
Well then, how can we choose the good one? And what attributes should you keep an eye in when selecting one for yourself?
Top 7 Holographic Sight Reviews 2024
Below, we will discuss about what quality a good holographic sight have, the top 7 best holographic sight, their pro and cons in objective perspective to help you choose for yourself the most suitable one.
1

EoTech EXPS3-2TAN – The Best Night Vision Holographic Sight
With its superb quality, this
Providing a 7mm raised base offering iron sight access, which makes it become a lower 1/3 co-witness with your iron sight.
The battery also received a significant upgrade when it reduces the sight length by the single transverse 123 battery.
A simple O-ring replaces the battery latch and cap, cover by a tethered cap, and makes it stay firm.
The EXPS3-2 has one large 68 MOA outer ring and two 1 MOA red dots (one centered for 50/200 yds and another slightly below for 500 yds)
The base and battery compartment are separated and allowing the compartment to hover over the delta ring.
Another improvement is it can tolerate water pressure at 33 ft depth and its battery life at max brightness level is 500-600 hours. At a low battery, the reticle will be flashing upon startup.
This product might not be good for astigmatism people as when they look into the sight a blurry cloud appears in the outer circle.
Overall, it's a worthy product for that price. Ah, another plus is it has Night Vision capability as well. Perfect!
PROS
Significant battery improvement
Provide 7mm raised base offering iron sight access
Strong and firm
Quick and easy mount
Splendid for both open eye shooting
CONS
Terrible for astigmatism people
Don't use it in extremely heat or cold
---
2

C-MORE Systems RTS2 3 MOA – The Most Versatile Holographic Sight
Its most notable features must be the super bright 3 MOA Red Dot with 10 Manual Brightness Settings.
The battery tray which can be removed helps eliminates the re-zeroing when charging batteries.
Moreover, the RTS2R's has a removable Picatinny or Weaver style rail mount.
An unobstructed sight picture in which the red dot hovers on the sight line, making the quickest target acquisition in existence and unlimited eye relief.
Although the aiming speed might be the fastest, its accuracy is troublesome. And the reason is there is no ghost ring in the center lens to maintain the red dot
The C-MORE Railway is bigger than this product, but there's enough for any other mini rds.
A positive locking screw is acted as 1 MOA Click Adjustments for Windage and Elevation.
PROS
Can be direct mounted or utilize various STS mounting kits
Glass lens that can split beam.
Lens also hard coated ensure maximum scratch resistance & light transmission
Quickest target acquisition
CONS
Lack of accuracy
Sight window has an ugly blueish tint to it
---
3

Trijicon RMR 6.5 MOA Adjustable – The Universal Holographic Sight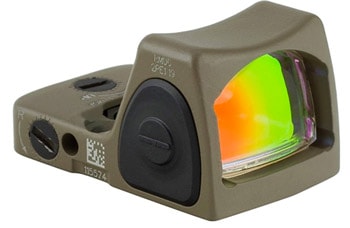 The most versatile sight ever. With four color options allows gunner selected their most favorites one.
Further, the Trijicon also offer customers a variety of mount to choose from:
RM33 Low Picatinny Mount
RM34 Tall Picatinny Mount
RM34W Low Weaver Mount
RM35 Full Size ACOG Mount with Bosses
RM36 Compact ACOG Mount
RM38 Full Size ACOG Mount without Bosses
RMR stands for Ruggedized Miniature Reflex, which is adamant but lightweight. The operation is controlled by buttons, press both one for switching to auto mode, press both one, and hold for 3s for turning off the optic.
The setting for 6.5 MOA LED including two-night vision modes and one super bright mode.
Another great feature and also my favorite one in design is the unique patented housing shape. The house shape sight is constructed of the 7075-T6 aircraft aluminum alloy which diverts impacted force away from the lens, enhancing durability.
One reported common issue is the rm07 sights usually turn on and on between shots. There might be a bad connection between the battery and the connector. Damn, I wish you wouldn't get a defective one.
Trijicon has many flavors of RMR, so before purchasing you should compare the price among them and choose your desired dot size.
If you want a backup sight on rifle for medium range shots, go for smaller Reticle 3.25 MOA RM06
If you want a sight for defensive pistol or shotgun, consider large 6.5 MOA RM07 (When aiming, large dot are better for acquiring visually)
PROS
Versatile
Eight adjustable setting
Strong but lightweight
Extreme durability
Multiple choices for many purposes
CONS
Expensive (yes, 600$ is a damn big thing!)
Defect product has unstable sight battery
---
4

Burris Fastfire III 3 MOA Sight – The Cheapest Holographic Sight
The cheapest holographic sight you could ever find. With only ~200$ and about one-third of Trijicon.
This red dot sight might be the best at this price point.
Mounted perfectly by plate number 5 came with the pistol. 3 MOA dot reticle with a thick base.
This solid base, however, is a shortage for co-witnessing if you are using the iron sights.
Well, the weight is lighter than most sights, and that's some remarkable feature. And also the service. Burris guarantee: Brand new inbox. Returns are accepted up to 14 days after the product has been delivered.
Items must be returned in a resalable condition. No return will be accepted after 14 days from the delivery date.
But I think the only reason for this superb guarantee is its terrible quality, though.
FastFire III has serious trouble with the on off. Turn it on and wait for few min then it would off completely. The red dot has ragged around the edge making it looks like a star. Impossible to shot precisely, though. You couldn't get zeroed at 75' on Ruger Mark III.
PROS
Cheapest price
Mount perfectly
3 MOA reticle
Lightweight
Super guarantee
CONS
Major problem with on-off feature
Red dot become "star" and reduce accuracy
Unpleasant customer service
---
5

EOTech 512.A65 Tactical – Best Holographic Sight for Close-in Combat Speed
Close-in combat specializing, this EOTech sight uses laser light to illuminate holographic red reticle projected on target terrain.
Waterproof at 10 feet under the surface. The adjustment per click is 0.5 MOA (1/2 inch @ 100 yards). It can be mount on 1-inch Picatinny or Weaver rail.
The energy source is two 1.5 Volt AA batteries and also lifetime is at 1,000 continuous hours at a normal setting.
20 brightness setting is excellent! From inside to outside range in just a blink. EOS can be used very fast with the reflex sight (better for the close-quarter) and then for more precision shot at long range with the smaller pinpoint red dot.
Unfortunately, like any good product, EOS still got some errored products and even counterfeit one. The 2 AA battery could be troublesome since it's contributed heavily to weight and versatility on the field.
The battery life of EOS is much shorter than Aimpoint and less durable.
There are Youtube videos of people bash Aimpoints by basketball bats, but EOS hasn't got any video likes that.
PROS
Firm & Steady
Good for close combat
Good for long range with smaller pinpoint dot
Versatile for shooting both indoor & outdoor
CONS
No night vision
Heavy
Big size
---
6

EOTech XPS2-0 – The Crispest & Quickest & Holographic Sight
Design for quick target acquisition at 100 yards and below. For 10 yards, the outer ring can aim as quickly as possible.
The optics are crisp clear & parallax free, which means you can move your head around and shoot with 100% accuracy as long as you still see the center dot.
The rugged aluminum hood covered the internal optics which increase durability and avoid impact.
It also can be submerged under 33 feet. This version leaves rail space for rear iron sights, magnifiers,…
Sadly, with it 500 hours, this product has shorter battery life than Aimpoint which is one year. Also, the battery usage is CR123. This battery is a rare and expensive one so you might have to take extra effort to maintain it.
With the EOS, you should focus your shooting eyes on the target. This action will make the reticle, through holographic magics, the reticle will be the focus anyway.
One advantage of this awesome product is that it can be mount easily on many rails. You can mount it on the large hand-adjustable bolt to a Weaver or Picatinny rail, or a smaller Allen-type bolt.
PROS
Quick target acquisition at short range (under 100 yards)
Crisp clear & parallax free.
Rugged aluminum hood to increase durability
Versatile (mount on many rails)
CONS
Short battery life (500 hours)
Rare and expensive battery (CR123)
Expensive
---
7

UUQ C4-12X50 AR15 Rifle Scope – Best Rifle Holographic Sight for Broad Range Shooting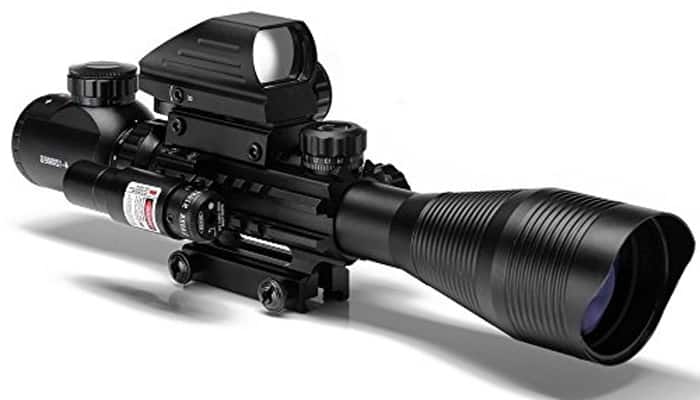 The optical clarity is high at 4-12 times magnifications including 50mm objective diameter. The holographic sight comes in two colors: green and red. It also has five levels of unlimited brightness control and four reticle pattern to choose from.
The green laser sight JG8 has a distance up to 500m and can be detachable with an independent switch.
The windage and elevation are adjusted by ¼ MOA audible click stops and fingertip turrets. It also has a high-quality matte black finish, 100% Waterproof & Fogproof and Shockproof and dry Nitrogen filled.
A nice small feature is there has a spare rail for mount a TAC light or a long-range IR Illuminator.
This product has almost no-fault or complaint from the customer. Some minor defects might occur, but with prompt customer service, it is not worth mentioning at all.
Come with a full scope package but the awesome price, just only 139$. Unimaginative price for the quality.
With all the illuminated, range findings, the scope is excellent for clear shots at dusk or even dark. Given the price and quality, this is by far the best option within the price range.
PROS
Good price with impressive quality
4-12 times magnification including 50mm objective diameter
Green laser sight has 500m distance maximum
High quality matte black finish, 100% waterproof & fog proof & Shockproof
Look badass!
CONS
Almost no disadvantages at all except minor defects
---
The Holographic Sight Buying Guide
To help you understand why we state the above products, here are key features you should look for when deciding to buy a holographic sight.
Holographic sight is made for many purposes. What works well for someone might not be suitable for the other, only because they using it for different applications. So knowing the difference in which the bipod can help you choose the best one for yourself.
1. Reticle Size
The size of a dot is measured by MOA (which means minutes of angle). It calculates the inch covered per 100 yards. For example, it is 2 inches at 200 yards, 5 inches at 500 yards, one-half inch at 50 yards, etc…
The smaller dot provides better range precision. The current smallest dot MOA is 1 MOA and belongs to EOTech company. The holographic sight is better than the red dot sight in this feature.
Because the dot size in red dot sight is bigger than the holographic ones when you magnified, the target is enlarged while the aiming dot stays 1 MOA size, offer much greater precision. The red dot sight cannot do this.
So choosing a smaller reticle size is significantly enhances your shooting precision in long-range shooting and close combat.
2. Size
The size of holographic sight is another thing to consider. Depend on your weapon and looks, a smaller sight is preferred for a pistol than a rifle.
The C-MORE Systems RTS2 3 MOA Red Dot Sight with Rail Mount is the most suitable when coming to small guns. Many soldiers or police officers need this for quick target acquisition, and if the size's too small, they will get trouble doing this.
A large enough field of view allows a soldier or police officer is scanning the entire scenario without losing focus on the primary target.
The size also affects co-witness when using altogether with iron sight and weight.
3. Battery Performance
With every advantage comes the disadvantages. The biggest cons of holographic sight compared to the red dot and traditional optic sight is about energy efficiency.
A typical EOTech XPS2-0 Holographic Sight has a battery life of 500-600 hours at a brightness level of 12, 3X battery life of N cell sights. This is also significantly shorter than Aimpoint sight, which lasts about one year.
Another minor check is the type of battery being used. For the common ones likes EOTech 512.A65 Tactical Holographic AA Batteries Sight, two AA batteries are sufficient and widespread to find.
But for EOTech XPS2-0, the CR123 could come to a huge drawback since it's a rare and expensive one. It's a trade-off between size and performance. The more compact, the more drained energy, and vice versa.
4. Easy to Use
Yep, a more modern tool requires sophisticated operation yet is simple enough for the user. Some sights have 20 brightness levels and eight adjustable settings, plus windage and elevation adjustment.
All these functions could be easily adjusted with one adjuster with an audible click. An intuitional design is a brightness change by pressing the plus or minus button on either side and for auto mode switching, just press both ones simultaneously and release.
To turn off press like above but hold for 3 seconds. Also, all processes must be quick and light press for convenience.
The holographic sight is used in urgent cases with various environments, so this is a must-have feature. Consider when buying, my fellows.
5. Brightness Level
A sight that has more brightness levels is more adaptable in many fields, whichever indoor or outdoor.
Going from indoors to outdoors is the greatest thing you could do with a holographic sight.
This even helps you in dusk or dark shooting, which is a unique feature that not many other sights could do. In conclusion, more brightness levels, better accuracy.
Another common mistake that many shooters make is they forgot to turn off the brightness overnight, and it drains all the battery out. If you don't use it for a long time, consider putting it out for saving energy.
6. True Two Eyes Shooting
One of the awesome features of holographic sight is that it allows the shooter to open both eyes. It also reduces parallax issues, and thus accuracy is pretty much guaranteed.
You don't have to keep the eyes straight with the reticle and the target; the holographic sight will lock the target within reticle appearance. This feature is extremely useful for Huntsman and sportsmen as they could see multiple targets in the same succession.
7. Waterproof, Fogproof
A small but powerful feature is the ability to stay sharp and definite in inclement weather.
The optical is made by glass, which is profoundly affected by the winter season (unfortunately many hunters love to go hunting at that time).
Waterproof and fog-proof ensure holographic sight's durability and boost your accuracy.
8. Auto Battery Check Indicator
The vital part of a holographic sight should always be the battery. Full energy makes the red dot crips and firm, avoid blurry rings when aiming.
When in low, the reticle will flashing upon startup Make sure you always carry extra sources and with the right type.
9. Auto Shutdown
Most of the famous brands for holographic sight manufacturers always include these features in their products. But you should always consider this on purchasing because a small part can make a huge impact.
Auto shutdown is a nice-to-have feature to saving up battery energy. This is essential for expensive one like the CR123 battery.
10. Weaver/Picatinny Mount
Picatinny rails are also called MIL-STD – 1913 rails or tactical rails. Some of them have the center groove cut down the rail length, but this center groove is not specified in MIL-STD – 1913 issued by the government to standardize the specification of Picatinny rails.
This center groove is created to allow the wires are routing under the rail cover to support flashlight or other electrical equipment for the weapon.
It also allows iron sights to be used on firearms where the placement of the top rail interferes with the sight picture.
One of the products – The RTS2R – has a removable Picatinny or Weaver-style rail mount, so the sight can be direct mounted or utilize the various STS mounting kits.
Some other have 1-inch or 22 & 11mm rails. Choosing the suitable mounting for your type of weapon allows the holographic sight to reach its maximum potentials.
11. Co-Witnesses
With holographic sight and other reflex sight system, a product which support co-witnesses is necessary.
The iron sight always is called BUIS (back up iron sight), which supports the gunner when holographic sight is failed. A proper holographic will always support you with these features, ensure you can aim at any time.
Some Holographic sight is night vision compatible, allow you to put a night vision monocular behind.
12. Price
Due to its technology and complex system, a holographic sight is usually expensive. The market has a wide price range, from 50$ to even 600$.
Usually, a good and affordable product can have a price of 400$ approx (EOTech 512.A65 Tactical Holographic AA Batteries Sight), with full features as the list below.
But if you are searching for a lower price but adequate quality, you can take a look at Burris 300234 Fastfire III with Picatinny Mount 3 MOA Sight.
Even better is the UUQ C4-12X50 AR15 Rifle Scope (12 Month Warranty).
This scope system is coming with an excellent rifle scope, a green laser reticle, and two-color tactical holographic dot sight.
Conclusion
In my honest opinion, a fully equipped holographic sight with all the above features is a must-have for professional shooters.
Nothing boosts your accuracy and shooting speed like an incredible holographic sight. But be considered with the price, and choose for yourself the most suitable one.