In a day to day scenario, ankle holsters are an excellent way to conceal a secondary or a backup weapon.
Hiding the gun on your ankle brings many advantages to the wielder like nobody would suspect you that you're carrying a gun.
Ankle holsters can also serve as concealment holsters for your primary handgun when you're wearing light clothing or going on an errand.
Ankle holsters are now considered as a normal way to carry a pistol. In this article, we will give you tips on how to examine the best ankle holster and the most popular models today.
Best Ankle Holster Reviews 2023
There are lots of choices for ankle holsters in the market. However, there are only a few which you can consider being the best ankle holsters based on their pricing, quality, brand, style, etc.
The holster models we feature in this article are worthy to be checked out.
1

Galco Ankle Glove Holster – Premium Quality Ankle Holster
This ankle holster is recommended for those who like to stay on top of things.
This one is considered to be one of the premium holsters for the ankle, and it offers deep concealment especially if you're the type who moves around a lot.
The Ankle Glove is made from the high-quality neoprene material with a Velcro closure. It serves as the retention style of the ankle holster and ensures your comfort and security.
The Velcro is known to be a durable material, and both sides stick tightly together like glue.
The padding material, on the other hand, is made from sheepskin. This is to ensure that there's no moisture buildup between the ankle and the holster.
This ankle holster has a reinforced thumb break. The thumb break won't fail you at every time and helps for quick draws.
We recommend you to take a few extra steps to have a more secure feel when using this ankle holster.
Without the optional Calf Strap, the ankle holster is prone to sliding down. The Ankle Glove can fit ankles that up to 13 inches in circumference.
The Ankle Glove is made to hold semiautomatic pistols and double action revolvers. It has left and right versions and is only available in black color.
PROS
Neoprene band with Velcro strap closure
Sheepskin padding
Reinforced thumb break
Optional Calf Strap
CONS
May require additional strapping
---
2

ComfortTac Ultimate Ankle Holster For Concealed Carry – Best Ambidextrous Ankle Holster
If you're looking for the ultimate holster for a broad range of guns, this is the ankle holster for you.
It is relatively cheaper than other brands without sacrificing the comfort and security.
Despite its lower price, ComfortTac managed to use high-quality materials to deliver an ankle holster that is worth buying.
Some gun models which will not have any problems with this holster are subcompacts like Ruger LCP, micro compacts like Sig Sauer P238, and small pistols like Glock models 42 and 43.
This ankle holster uses neoprene brand that doesn't stretch to lose shape. The neoprene material does not irritate your skin because it is not a cheap, elastic band.
Instead of the usual hook and loop retention system, ComfortTac opted for an elastic retention strap that comes with a metal snap.
With this style, the gun is held secure to the holster and won't be easily grabbed by your opponent during a fight.
The retention style is also beneficial for stealthy draws because it will not make any noises.
As already indicated in its appearance and orientation, this ankle holster does not do well with guns that have long barrels. If you insist on fitting a gun with a long barrel, it may cause some to your ankle bone.
Another thing of concern is the elastic strap. It is thin and may not last for a long time. Considering this is sold cheap than others, it is inevitable.​
ComfortTac Ultimate Ankle Holster already comes in an ambidextrous version. This is different from other ankle holster models which require you to select between the left and right holster versions.
However, you would have to choose from two sizes.
ComfortTac offers a 15-inch band which caters up to 13-inch ankle circumference and a 17-inch band which will fit up to 15 inches of ankle circumference.
PROS
Ambidextrous ankle holster
Neoprene band
Quiet retention strap
Affordable
CONS
Retention strap may lose its elasticity over time
Not for guns with long barrels
---
3

Outbags OB-31ANK Nylon Ankle Holster – Best Ankle Holster for Similar-Sized Handguns

Are you looking yet for another cheap ankle holster? Then, this product is for you.

If you prefer American-made products, then, you should check out the ankle holster by Outbags.

This company is family-operated and secures the best materials for the production of their ankle holsters.

This ankle holster is considered to be a universal fit. This means this will cater guns that are of similar sizes.

However, to step things a bit further, Outbags also have sizes customized for specific gun models.

The material they use is not an ordinary nylon. It holds well and lasts for a long time.

The main feature of this ankle holster is its use of the neoprene for its strappings. The retention system is through Velcro closure which provides more security as it doesn't stretch.
The neoprene strap doesn't stretch and will not deform over long time use. Unlike elastic straps, it won't affect the ankle holster's hold on your gun over time.
Outbags Nylon Ankle Holster comes with a 4-inch adjustable Velcro strap which will only accommodate 10 to 13-inch circumference of ankles and calves.
It also comes with a 1-inch adjustable Velcro strap which wraps around the back strap.
We observe that this holster is a greater fit for people with bigger ankles. This one has an issue of siding down from time to time if it's the right fit.
Also, this ankle holster could become better if it has some additional padding between the holster and the ankle.
In this case, the ankle bone can be protected from the hard, cold metal of the gun.
This ankle holster may be sold in either right-hand draw or left-hand draw version.
PROS
Non-stretchable neoprene Velcro straps
General fit to similar sized guns
Affordable
CONS
May require additional padding
Greater fit for bigger ankles
---
4 Pro-Tech Ankle Concealed Holster – Affordable Price
This ankle holster by Pro-Tech is yet another ankle holster belonging to the similar price range as the Outbags and ComfortTac.
This is recommended if you're on a budget, but you still would like to own a reliable holster.
This ankle holster's outer layer is made of Cordura ballistic nylon while the inside layer has a vinyl vapor barrier which intends to keep off the moisture from your gun.
The padding between the holster and the ankle is made of foam, and the overall appearance of the holster has a nylon lining.
One great thing about this holster is its stitching. It is stitched using strong bonded nylon, and the pressure points are double stitched for extra security.
The edges are turned under to prevent the fraying of the ankle holster.
The retention system is made up of elastic nylon strap with Velcro closure. As already said, the Velcro is a great way of holding the gun without being grabbed by other people.
The strap is also adjustable to secure the weapon further. Another great thing about the Velcro is that it's hidden by webbing to prevent debris from accumulating on the material.
Pro-Tech Ankle Holster has an unfavorable tilting angle that will show the butt of the gun when you're bending. One more disadvantage about this holster is its draw version. You can use only use the right-hand draw version.
This ankle holster may be sold in either right-hand draw or left-hand draw version.
PROS
Webbing hides velcro
Prevent moisture
Foam padding
Nylon stitching for extra security
Affordable
CONS
Unfavorable tilting angle
Right hand draw only
---
5

DeSantis Die Hard Ankle Holster – Best Leather Ankle Holster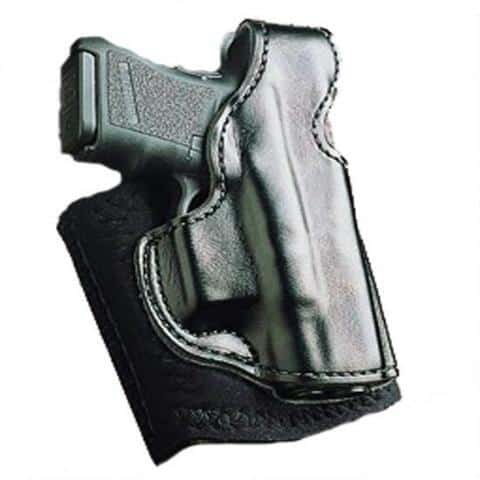 The price range where the DeSantis Die Hard Ankle Holster belongs is neither on the cheap side nor the expensive side.
The combination of the materials used is based from the Federal Law Enforcement for longevity and better performance.
The materials that we were talking about is the holster's top grain saddle leather coated with a super tough polyurethane.
The smooth leather lining protects the finishing of the gun and offers a smoother draw compared to synthetic bands.
Foam is the padding used to comfort the boundary between the ankle and the holster. It is lined with sheepskin to wick off moisture.
The neoprene strap of this holster is elastic. We observed the elastic strap stretched over time and may affect the overall holding of the holster to the ankle. Another disadvantage is it's only available in a right-hand draw version.
This holster also comes with a thumb break. It is designed to fit Smith & Wesson MP Shield 9/40. The color of this holster is only available in black.
PROS
Smooth leather coated with strong PU
Foam padding with sheepskin lining
Medium price
CONS
Right hand draw only
Neoprene strap stretches over time
---
Advantages and Disadvantages of an Ankle Holster
The reason for using an ankle holster can vary from each person. As for the law enforcement, it's a standard to them to use ankle holsters to store their backup guns.
It's a safety precaution because In any case that an officer was disarmed of his primary pistol, he can always depend on the gun tied to his ankle.
Another advantage of ankle holsters is their accessibility. The gun can be easily reached when you're in a bending or sitting position.
Scenarios like spontaneous robbery while in food stores or an environment where you are sitting most often are the ankle holster's initial applications.
An ankle holster is not short on disadvantages. After all, the comfort felt by each person varies to some extent.
An ankle holster can be uncomfortable because of its bulkiness. Another disadvantage of an ankle holster is you will need to consider your wardrobe.
To effectively conceal the gun strapped to your ankle, the pants should be longer and looser at the bottom part. This is to avoid the display of the gun when you cross your legs; the pants rise when you do that.
How to Choose an Ankle Holster
Having an ankle holster may require getting used to the feeling of wearing it. That's why the best ankle holster that you choose is something that you won't regret later on.
Before you buy an ankle holster, consider some of our tips below:
1. Safety
A well-designed ankle holster will protect not only you but also the gun. The holster must prevent any movement of the trigger mechanism or safety mechanism caused by your movements.
2. Retention
This is about the methods on how is the gun held by the holster. For ankle holsters, this is considered to be one of the most important factors as accessibility will be one of your primary concerns.
The retention style you should choose should be able to prevent any person other than you to remove the firearm from the holster.
One of the retention styles that can lead to some nuisances is the thumb and lock system. This type can be noisy to deploy and can snag to your clothing like socks, pants, or shoelaces. It can also cause irritation to the exposed skin.
3. Materials
Choosing the best material where you could feel comfort all day long is a must. Most high-quality ankle holsters are made of either Kydex or Nylon.
Other materials like leather are also used but it is more expensive than the synthetic materials.
Also, the leather can affect the finishing on your gun because of its properties.
4. Padding
The padding of the ankle holster is important to consider. Moisture may build up because of sweat and could stick to the holster.
A suitable material for the padding will result in lesser moisture and may also wick the moisture off the holster.
5. Strapping
As you're going to be moving all day, the strapping on your ankle holster must be flexible while still being a comfortable fit around the ankle.
If you tend to wear the holster inside your boots, your straps should be larger to have a more secure fit.
Conclusion
The best ankle holster you can find offers concealment, comfort, security, etc.
Through our established guidelines and thorough reviews on some of the best ankle holsters, you are now ready to buy your own and start wearing it!